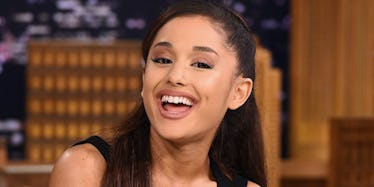 Celebrate #TBT With This Video Of Ariana Grande Recreating 'Mean Girls'
Theo Wargo/NBC/Getty Images
Vocals that rival Mariah Carey's, celebrity impersonations that could land her a spot on SNL, and a song about getting banged so hard you can't walk straight. Ariana Grande has given us a lot to be thankful for during her reign as one of pop music's most cherished princesses.
As I sit here typing on this glorious Thursday, though, I can't help but to forget about all of the gifts she's given us because a video of Princess Ari and her friends reenacting the opening scenes from Mean Girls was just brought to my attention and, holy sh*t it puts everything she's ever done to shame.
The video, which is on Ari's official YouTube channel, was uploaded ten years ago, and it opens with a title card that reads: "This is the oldest movie ever and we were all like 2 in this video.*" OK, I'm already laughing. (*Let's pause and reflect on the fact that at the time this video was made, Mean Girls was only like three years old.)
I honestly don't even know where to start. From that initial prologue all the way to the last seconds of the clip, this video is #TBT GOLD. I'm not shocked, though; combining an iconic movie like Mean Girls and an iconic pop star like Ari is worthy of everyone's attention.
And to think, there was a point in time (most likely somewhere around when "Into You" was first released) where I honestly thought I could never love the dangerous woman anymore, but watching her imitate Cady Heron's mom definitely proved me wrong as heck!!!
I think it might be time to see a remake of this original video, Ari. I know it would make one Arianator very happy.
Let's be honest, though, it's only a matter of time before Lindsay Lohan gets ahold of this and tweets at Ari asking her to be in Mean Girls 3. I guess we can just wait until then.