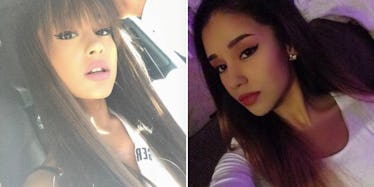 Ariana Grande Has A Doppelgänger And You Won't Be Able To Tell Them Apart
Instagram
Looking at these photos above -- side to side -- you can't help but think these two are twins.
If your bucket list included cloning Ariana Grande at some point in your life by using the DNA she left on those licked donuts, don't even bother. She's already got a doppelgänger, and you won't be able to tell them apart.
For instance, here's the donut-licker herself: Ariana Grande.
No animals were harmed in the making of this Instagram.
And here's... also Ariana Grande? Just kidding.
This is 20-year-old Jacky Vasquez, someone who could very well be Ariana's long-lost twin ("Man in the Iron Mask"-style).
Honestly, I wouldn't be surprised if your eyes popped out of your sockets like a cartoon wolf's in disbelief over their shared resemblance.
Jacky, a waitress from Virginia, said Ariana actually commented on her Instagram about their uncanny likeness,
I was amazed when she followed me on Instagram, she commented on one of my photos saying that her cousin thought I was her, I couldn't believe it.
Wait, Ariana's own flesh and blood can't tell her and Jacky apart? I mean, my extended family can't tell me apart from Gimli in "Lord of the Rings," but still...
Where was I? Oh, that's right. Behold Ariana Grande...
And behold someone who somehow does not share 100 percent of Ariana Grande's genes...
AHHHH! WHERE DOES ARIANA END AND JACKY BEGIN?
No one knows... not even God.
While you contemplate whether or not there's a doppelgänger out there who looks like you (and potentially gets more likes on their Instagram), check out these other pictures from Jacky's Insta.
Honestly, if I didn't have perfect vision, I would assume this is visual proof confirming Justin Bieber and Ariana were dating.
DO NOT CROSS MARTHA STEWART, JACKY. WARS HAVE BEEN DECLARED OVER LESS.
Jacky wants you to say she's a bird, but I'm gonna say...
She's Ariana Grande's potential body double.
Citations: This 20-Year-Old Girl Is A Dead Ringer For Ariana Grande, Looks Just As Hot, Is Much Less Annoying (Bro Bible)