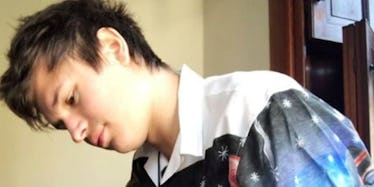 Ansel Elgort Gives Ryan Gosling A Run For His Money In Dreamy 'La La Land' Cover
Instagram
Ansel Elgort straight-up crushed his cover of this "La La Land" song, making us all wonder, "Wait, should there be a teen movie remake of 'La La Land'?"
Just kidding, that sounds terrible.
No, I would never want anyone but Ryan Gosling to make out with Emma Stone's face in "La La Land."
But you can't deny this 23-year-old "Fault in Our Stars" actor sounds pretty angelic in his cover of "City of Stars."
Elgort posted the video of himself on Instagram on Tuesday, writing in the caption, "Little cover 'City of Stars' from La La Land."
And listen, the kid sounds fantastic. There's no denying that.
And, considering the criticism Ryan Gosling faced for his singing abilities in "La La Land," it's hard not to compare the two voices.
But even though the young Ansel here sounded great in his video, there were a few things that prevented me from fully enjoying this cover.
1. That performative breath he takes before he starts.
You'd think he was stealing himself up to end a five-year relationship, not play a fairly simple piano cover.
2. The shirt.
I just... what? What is going on with that shirt? What? What?
3. That crystal necklace.
I'm not even going to start.
4. All of these faces that he made.
So again, voice of an angel, for sure!
But I think Ryan Gosling wins this time, purely based on face and mannerisms.
Elgort starred in the 2014 movie "The Fault in Our Stars" as Gus. It was recently announced he'll be starring in the remake of "Billionaire Boys Clubs" alongside big name actors like Kevin Spacey, Cary Elwes, Emma Roberts and Taron Egerton.
Although there are not currently any musicals in Elgort's future, maybe this video will change that.
I'm thinking "Peter Pan" for Disney's inevitable live-action remake (again).