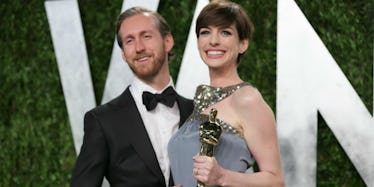 Anne Hathaway Faked Her Oscar Speech: 'I Tried To Pretend That I Was Happy'
REX/Shutterstock
I never really understood the backlash that Anne Hathaway faced after her 2013 Oscar acceptance speech.
I thought she was emotional, maybe shocked -- but most people thought she was just faking it.
The star, who won best supporting actress for portraying Fantine in "Les Misérables," told The Guardian that the movie left her in a troubled state mentally.
For the role, Hathaway lost 25 pounds and only got by on small amounts of porridge. She said,
I kind of lost my mind doing that movie and it hadn't come back yet.
But for Hathaway, the experiences was a lot more than just physical. She added,
It's an obvious thing, you win an Oscar and you're supposed to be happy — I didn't feel that way. I felt wrong that I was standing there in a gown that cost more than some people are going to see in their lifetime, and winning an award for portraying pain that still felt very much a part of our collective experience as human beings.
A lot of people thought her acceptance speech was fake... or even smug. She continued,
I tried to pretend that I was happy and I got called out on it, big time.
You can watch her acceptance speech here.
The actress commented on the reaction her speech received and said,
That's the truth and that's what happened. It sucks. But what you learn from it is that you only feel like you can die from embarrassment, you don't actually die.
This is true because I would have died a thousand times in middle school.
Since winning her Oscar, she has appeared in a number of movies like "Don Jon," "The Intern," "Alice Through the Looking Glass" and what is being called one of the riskiest post-Oscar moves yet, as a drunk drifter in "Colossal."
For the role, she plays an alcoholic who can control a Godzilla-like monster when she's intoxicated.
Anne Hathaway and her husband Adam Shulman welcomed their son Jonathon in March.
Citations: USA Today (USA Today)