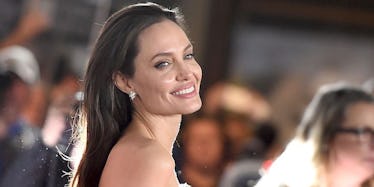 Angelina Jolie Is Firing Back About Those "Cruel" Auditions For Her Cambodia Movie
Jason Merritt/Getty Images
Angelina Jolie has always been involved with philanthropic causes and used her career as a way to shed light on important issues throughout the world. Though she intended to raise awareness about the mass killings in Cambodia during the '70s with her film First They Killed My Father, her Netflix directorial project drew attention for the wrong reason last week when its "disturbing" audition process, as described in a recent Vanity Fair profile, was met with heavy criticism. Now however, Angelina Jolie is responding to the "cruel" auditions she believes were taken out of context.
"Every measure was taken to ensure the safety, comfort and well-being of the children on the film starting from the auditions through production to the present," Jolie told The Huffington Post in a statement on July 29. She said that what had been reported as a cruel "game" involving money was in fact an improvisation exercise, and that parents, guardians, and other people responsible for the welfare of the children were present while this was conducted.
Jolie and Cambodian filmmaker Rithy Panh reportedly used a "game" as part of the audition process to find the film's child star. Supposedly, the directors placed money in front of the children and asked them to think of a reason why they would need to steal it. The children were then "caught" stealing and had to come up with a lie.
"Srey Moch [the girl ultimately chosen for the part] was the only child that stared at the money for a very, very long time," Jolie said, according to Vanity Fair.
When she was forced to give it back, she became overwhelmed with emotion. All these different things came flooding back. When she was asked later what the money was for, she said her grandfather had died, and they didn't have enough money for a nice funeral.
This audition tactic was met with a lot of negative criticism, and people did not hold back.
The portion of the Vanity Fair profile that drew criticism read,
To cast the children in the film, Jolie looked at orphanages, circuses, and slum schools, specifically seeking children who had experienced hardship. In order to find their lead, to play young Loung Ung, the casting directors set up a game, rather disturbing in its realism: they put money on the table and asked the child to think of something she needed the money for, and then to snatch it away. The director would pretend to catch the child, and the child would have to come up with a lie.
Jolie, however, defended herself with a statement to HuffPo. The actress and United Nations Refugee Agency Special Envoy said,
I am upset that a pretend exercise in an improvisation, from an actual scene in the film, has been written about as if it was a real scenario. The suggestion that real money was taken from a child during an audition is false and upsetting. I would be outraged myself if this had happened.
You can read Jolie and Panh's full statements here.