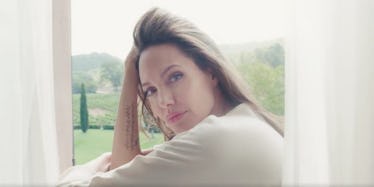 Angelina Jolie Stars In Sexy New Ad, DGAF About Brad Pitt And Jen Aniston Drama
Twitter
Dayummmmmmm, Angelina.
It's been a weird few weeks for Angelina Jolie, partially because she is going through one of the most public divorces of all time.
Mostly though, it's because her ex, Brad Pitt, has reportedly been slipping into his ex, Jennifer Aniston's, DMs like there's no freaking tomorrow.
You wouldn't know it by looking at Angelina's new fragrance ad.
Guerlain dropped the commercial for its newest scent, Mon Guerlain, with Jolie as spokesperson, and whoooaaaaa boy, I bet Brad Pitt feels like a huge dumb idiot for screwing this up.
You can watch the commercial here:
In the commercial, Jolie is doing standard Angelina Jolie sexy stuff.
She's walking through a field, playing with drapes, staring into a mirror and memorizing lines, even though she doesn't speak during the commercial.
V sexy stuff.
The entire time a sexy scientist is making her perfume in his sexy smells laboratory.
Describing the scent Jolie is wearing, Guerlain said in a statement,
Fragrance for women who defy categorization, who embrace all that life brings and all sides of themselves, who are comfortable in their own skin and whose guiding spirit is to be true to themselves and to live a life of use to others.
The ad was shot last summer in Provence, France.
Reportedly, Jolie plans on donating all proceeds from the ad campaign to charity.
The commercial was released a few hours after news broke that Pitt had been texting Aniston.
Though it will likely go nowhere, because she's sort-of married to "The Leftovers" star Justin Theroux or whatever... but it's still a crazy move to pull.
According to a source, the two started talking after he sent her a text wishing her a happy birthday.
The source says,
Brad told her he's having a hard time with his split, and they exchanged a few texts reminiscing about the past.
AHHHHHHHHHHHHH! WHAT DOES IT ALL MEAN??!!?
Citations: Angelina Jolie Is Absolutely Stunning in Sexy New Fragrance Ad for Guerlain (E!)