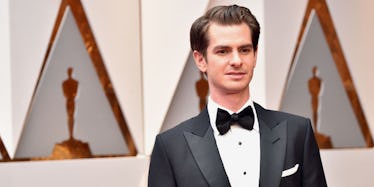 Andrew Garfield Says He's A Gay Man, "Just Without The Physical Act"
Frazer Harrison/Getty Images
Andrew Garfield has immersed himself so fully into the LGBTQ+ community recently that he's now claiming to be part of it.
During a panel about his latest role in London's Angels in America stage production, Garfield made the announcement he considers himself to be "a gay man now," even though he doesn't have sex with other men, according to The Gay Times.
In Angels in America, Garfield played the AIDS-afflicted lead role of Prior Walter. He says he prepared for playing the role by watching every season of RuPaul's Drag Race, which he also strangely credits as the thing that "makes him gay":
My only time off during rehearsals – every Sunday I would have eight friends over and we would just watch ['RuPaul's Drag Race']. This is my life outside of this play. I am a gay man right now just without the physical act – that's all.
As you would expect, Garfield has received a ton of backlash for the tone-deaf comment. Twitter exploded with people pointing out Garfield's view of being a gay man must be incredibly narrow if he thinks that all it means is marathoning Drag Race.
Scott Evans, Chris Evans' brother, also called Garfield out for the comment, saying he seems to be oblivious of the things he is saying.
Garfield's comment is drawing a lot of comparisons to a similar comment that James Franco made last year when the actor said he's "a little gay" except in who he sleeps with. Franco also received backlash from the LGBTQ+ community for the comment and confirmed he's straight months later.
In recent months, Garfield has gotten press for kissing Ryan Reynolds at the Golden Globes and for performing in drag alongside various queens from RuPaul's Drag Race, but the obvious fact is: Garfield may enjoy a reality show with a largely gay demographic without being gay himself. He has yet to clarify what he really meant by his confusing statement.
Elite Daily has reached out to GLAAD for comment on Garfield's statement but has not received a response at the time of publishing.