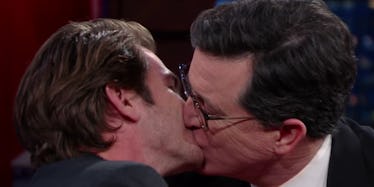 Andrew Garfield Explains Kiss With Ryan Reynolds, Then Makes Out With Colbert
YouTube
I've said it before and I'll say it again: If I could kiss any male celebrity, it would be Ryan Reynolds over and over again.
He's got to be most guys' number one man-crush, and I've chalked that up to his powerful combination of humor, rippling abs and smoking hot wife.
So, yeah, I was pretty jel when Andrew Garfield got to taste the sweet, macho breath of Reynolds during the Golden Globes.
Someone please explain what's going on in my pants because it's not right but yet so right.
The magical moment happened as Ryan Gosling got up on stage to accept the award for Best Performance by an Actor in a Motion Picture — Musical or Comedy, which Reynolds missed out on.
But it looks like that kiss awakened something deep inside of Garfield.
Now he's got a taste for man lust he just can't stop. At least, that's what it looked like when he appeared on "The Late Show" and smooched Stephen Colbert.
It happened after Colbert asked him about the Globes kiss with Reynolds. He asked,
What happened? What was the story there? What was going on there?
Garfield explained so chill,
I just wanted Ryan to know that I loved him no matter whether he won or lost. It doesn't matter. It doesn't change anything in my heart.
Colbert then asks if Garfield feels comfortable kissing men, because he does. You know, one thing led to another, and before we knew it the two were doing the lip dance all over our TV screens.
But one wasn't enough for Colbert. HE GOES BACK AGAIN FOR ANOTHER and describes Garfield as a "gentle lover."
Here's that Ryan Reynolds kiss again:
Anyone catch Ryan Reynolds kissing Andrew Garfield??? #GoldenGlobes pic.twitter.com/Zgp0d7uToM — Kristie Carnevale (@kriscarnevale) January 9, 2017
I can't wait to report on Garfield contracting mouth herpes from all the kisses in around four to six week's time.