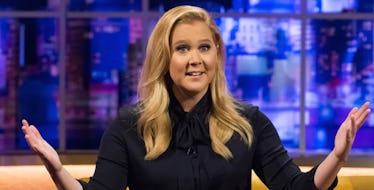 Amy Schumer Shades Tampa Protesters With 'Apology' Letter For Trump Jokes
REX/Shutterstock
Trump supporters aren't too happy with Amy Schumer right now, not that she gives a shit.
The comedian mocked the presidential nominee while performing on tour in Tampa, Florida.
In part of her set, she called Donald Trump an "orange, sexual-assaulting, fake-college-starting monster." She even invited a Trump supporter on stage and asked him to share why he was voting for Trump.
The jokes didn't sit well with the audience, because 200 people walked out of the Amalie Arena in protest.
WOW, A COMEDIAN WITH STRONG SOCIAL AND POLITICAL VIEWS TOOK FIVE MINUTES TO TALK ABOUT SHIT THAT MATTERS TO HER. ARREST THIS PSYCHOPATH!
Sorry, hold me back.
Anyway, Amy performed at Madison Square Garden last night and decided to address her Tampa show.
She presented the crowd with an open letter to the people who were offended by her Trump jokes. She told the NYC audience,
I've written an open letter to Tampa and I'd like to read it tonight. Dearest Tampa, I'm sorry you didn't want me, a comedian who talks about what she believes in, to mention the biggest thing going on in our country right now. How could I think it was okay to spend five minutes having a peaceful conversation with someone with different views? After the show, I want you to know that I will go straight to a rehab facility that will teach me how to make all people happy. Both the rich, entitled, white people who are gonna vote for him and the very poor people — who've been tricked into it! And Tampa, I'm so sorry. I shouldn't have said that he was an orange, sexual-assaulting, fake-college-starting monster. Shouldn't have said that. I will never again say that he is an orange, sexual-assaulting, fake-college-starting monster!
PREACH IT, GIRL. Amy gives zero fucks and that's why I love her.
Seriously, though, if you're going to see Amy Schumer perform on tour, you probably should be familiar with her comedy.
Amy has never shied away from sharing her social and political beliefs and often makes jokes about the current issues our country is facing.
She passionately fights for stricter gun control legislation and is an avid supporter of Hillary Clinton. Just the other day, Amy flooded her social media with pictures and videos of her encouraging others to vote.
If you're shocked she made comments about Trump, then perhaps you bought tickets to the wrong show.
Amy, thanks for giving your fans lots of laughs, valuable insight and a great performance. I'd watch you do your thang any day.
Citations: Amy Schumer Fires Back At Trump Supporters (Refinery29)