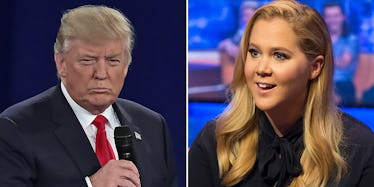 These Are The Trump Jokes That Made 200 People Walk Out On Amy Schumer
REX/Shutterstock
I was one of the lucky people to see Amy Schumer's live comedy tour when she performed at Madison Square Garden in New York City.
The 35-year-old was the first female comic ever to headline the arena, and she blessed a sold-out audience with a hilarious and moving performance.
If you follow Amy's comedy, you know she's outspoken when it comes to her political and social beliefs.
In my opinion, it's part of what makes her so admirable. She knows her views and uses her platform to speak about the things that matter to her.
As an avid supporter of Hillary Clinton and strong advocate for gun control, Amy Schumer doesn't shy away from incorporating political topics into her comedy.
After a man killed two women during a screening of her movie "Trainwreck," Amy created sketches on her show "Inside Amy Schumer" about our country's need for structure gun laws.
The comedian even devoted an entire chapter of her new book to Mayci Breaux and Jillian Johnson -- the two ladies whose lives were taken too soon.
Therefore, it shouldn't be TOO surprising to know Amy takes the time to discuss these issues during her set on tour.
Yes, Amy takes 10 minutes out of her set to discuss politics and her disdain for Donald Trump.
During her latest performance, however, it looks like Amy's audience wasn't too thrilled with what she had to say about the presidential candidate.
According to DailyMail.com, 200 people walked out of the Amalie Arena in Tampa because they were upset with the jokes.
In part of Amy's set, she mocks Trump and calls him an "orange, sexual-assaulting, fake-college-starting monster."
In the footage below,  you can watch Amy invite a Trump supporter to come on stage and explain why he's voting for Trump. While this is happening, fans are heard booing and seen walking out of the arena.
Later on, Amy asks victims of sexual assault in the audience to stand up and share a moment. She admits she was sexually harassed in her book, "The Girl With The Lower Back Tattoo," and reminded viewers that night.
When the crowd started to get really rowdy, Amy told her audience,
I know you're here to laugh, but you know what? You choose your life, you choose the way you want to live your life... this is too important. So we're gonna spend five minutes, just one more minute talking about it. You have every right to go to the bathroom or you can leave, whatever you want. But for five minutes I'm gonna talk about stuff. It's up to you, Tampa.
According to social media, it looks like the reaction to Amy's commentary was split. Some people praised her for making victims "feel less alone" while others shamed her for bringing up politics when they paid for comedy.
In the end, I think Amy makes her political and social beliefs very clear to her fans. She doesn't shy away from exploring controversial comments and that's part of what makes her such a powerful voice in this industry.
All in all, if you can't handle the heat, get out of the kitchen. Thanks for always keeping it real, Amy. I'd pay to see you again.
Citations: Amy Schumer Donald Trump Jokes (Daily Mail)