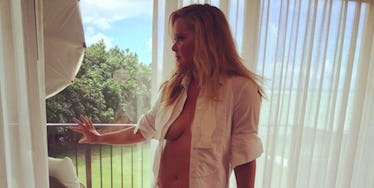 Amy Schumer's Latest Instagram Proves Side Boob Is Still In Style
Instagram
Amy Schumer blessed fans this morning with a gorgeous photo of her staring out a window, contemplating life.
She pressed her hand up against the glass and looked over the balcony into a beautiful, evergreen backyard.
The sun was shining, the birds were chirping and the sky was as clear as could be.
Wow, what a beautiful moment.
Oh yeah, she also had her tits out. GET IT, GIRL. Check out that tasteful side boob.
Amy gave her Instagram followers a behind-the-scenes peek of her cover shoot for GQ magazine, and it's hot as hell.
The comedian posed wearing nothing but underwear, a button down shirt and white heels. OW OWWWWWW.
Amy was featured in British GQ as Woman Of The Year for their 19th annual Men Of The Year Awards issue.
THAT'S RIGHT. CRUSH THE PATRIARCHY. TAKE. THEM. DOWN.
Amy's fans were clearly loving the photo. Instagram users posted sweet comments filled with compliments. WE LOVE YOU, AMY.
Forget these people, I'M YOUR NUMBER ONE FAN. ME. ME. ME.
Amy was presented with the award for her outstanding accomplishments over the last year. From writing and starring in her hit movie "Trainwreck" to selling out Madison Square Garden on her comedy tour, she's really done it all.
Oh yeah, she also added "author" to her resume this summer with her New York Times Best Seller, "The Girl With The Lower Back Tattoo."
I'm reading it now and it's hilarious. Seriously, everyone needs to own a copy.
It makes sense why GQ honored Amy. She also gave a hilarious (and pretty NSFW) acceptance speech during the awards ceremony.
Yes, she did say Patrick Stewart came all over her tits. You didn't make that up.
Ohhhh, Amy. Gotta love her.
Congratulations on an amazing year and an incredibly beautiful photo shoot, Amy! You're a queen, as always.
Citations: Amy Schumer 'Woman Of The Year' (GQ Magazine)