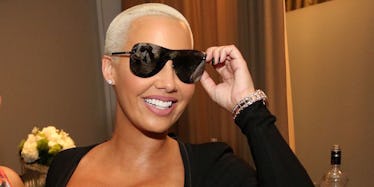 Amber Rose Says Masturbating Is The Key To Her Perfect Skin, So Have At It
REX/Shutterstock
If Amber Rose says masturbating is going to clear my skin, who am I to argue?
She does have pretty great skin, after all. I mean, take a look at that glow.
In a recent interview with Glamour magazine, the 32-year-old model revealed the number one thing she does to keep her complexion so flawless, and, yes, it's masturbation.
Amber told Glamour,
I wish I had the time to masturbate every day in reality, but I don't. I say a lot of those things on ['The Amber Rose Show'] because I am very sex-positive. I do say those things in a way where I am very serious, but it's also a joke.
Amber did not elaborate on how exactly self pleasure is clearing her pores, but I guess we should just assume it has to do with stress relief and that post-coital glow.
That would definitely explain her silky smooth skin because Amber Rose is the least stressed person I've ever witnessed. That girl doesn't worry about anything.
When asked by Glamour what her regrets were on the red carpet, she responded,
None. I just don't give a shit. I do what I want. Then I put it out in the universe, and people talk. And then they get over it, you know?
Yes I certainly do know, Amber.
Of course, just because she's not stressed doesn't mean she's not busy.
Amber is currently starring in the 23rd season of "Dancing with the Stars" alongside professional dancer Maksim Chmerkovskiy.
And just last week, she led the annual Amber Rose Foundation SlutWalk in Los Angeles, a walk dedicated to empowering women, and this year, to encouraging them to vote.
Amber spoke to Elite Daily about why she supports Hillary Clinton and why she doesn't support Donald Trump. She said,
Trump is a sexist bigot. Not that he's not smart — he's a smart guy in a lot of ways — he's just an idiot in a lot of ways. He's a slut-shamer, he's old-fashioned. He's not anything we need here in America. I just feel like Hillary just gets it, and that's why I'm voting for her.
So listen to Amber, friends — register to vote, and make sure you're masturbating, and your complexion will clear up in no time!
Citations: Amber Rose's Secret to Glowing Skin? Masturbation (Us Weekly)