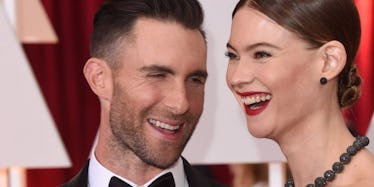 Adam Levine And Behati Prinsloo Talk About Threesomes In Bed For Maroon 5 Video
REX/Shutterstock
Since music videos first rose to prominence in the '80s, the best part of the medium has been the long, rambling monologues.
Hearing Britney Spears' diatribe about organized crime and union corruption on the waterfronts of Hoboken, New Jersey, in the mid-50s before she launched into 2000's "Lucky" was, and still remains, impossible to forget.
Now, Maroon 5 is maintaining the timeless tradition in their video for "Cold," featuring Future.
In a preview from the video, frontman Adam Levine climbs into bed beside his sleeping wife, Victoria's Secret Angel Behati Prinsloo, and recounts his wild night out.
He tells her,
It was weird… Somebody slipped something into my drink. I think it was acid because I started tripping balls. Future turned into a teddy bear and James was getting blown by a... chicken. It was crazy. And then I got arrested when the cops came, but they weren't really the cops. It was like this adorable little cartoon stripper and she gave me an adorable little cartoon stripper lap dance. That was weird, and then these two girls pulled me into a room for a threesome.
Behati pulls off her eye mask at the mention of a threesome. Adam reassures her, "Nothing happened. Nothing happened."
He continues,
One had the head of a donkey and the other had a head of a skull, I guess, of like a… deer or… some shit. I don't really remember. And then, like, this bodybuilder lady — she was wearing Uggs — she threw me into the pool. And I kind of snapped out of it and I left the car there 'cause I was way too fucked up to drive. So I just Uber'd home and here I am.
Behati is totally unfazed by his story. She's a new mom, after all. She needs her sleep.
Also, none of this is real.
She asks,
Did you get the milk, though?
He replies,
I got the milk.
BOOM. Music video. Well done. Very music.
Citations: Adam Levine and Behati Prinsloo Are in Bed in Maroon 5's "Cold" Music Video Sneak Peek (E!)