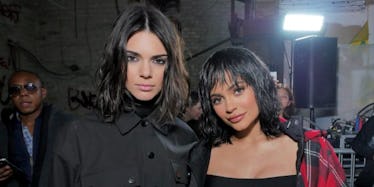 5 Pieces From Kendall And Kylie's New Collection You Can Actually Afford
REX/Shutterstock
Is it just a coincidence that Kendall Jenner and Kylie Jenner's latest capsule collection is called "DropOne."
As in: you're gonna have to drop one thousand dollars or more to cop just a single outfit from this collection.
The limited edition capsule was released on the sisters' website today, and if you were one of the lucky ones to snag the 2017 spring line (only 100 pieces of each item were made), then count your blessings.
And, assume, your cash -- and give it to me because I am so poor and hungry.
The collection, which the Jenners say is their most "personal" and "curated" collection so far, are expected to sell out quickly
Kendall said:
We wanted to focus the design of this line on a few specialty pieces, so that every style is unique to our vision... We're very excited to launch it!
And if you didn't already want to dress like Kendall and Kylie, then you're still probably drooling over the '90s themed denim, bomber jackets and fancy sweatpants.
That said, we're not made of money. Here are the items we can actually afford out of this collection.
Fishnet Tights -- $15
Honestly, I would pay anything for a pair of fishnet tights that I didn't pick up with a bowed head of shame from my local Hot Topic.
At $15, these tights are by far the cheapest thing the Jenner's are offering, because nothing says "I'm cheap," in more ways than one, than fishnet tights.
And that's it. That's all you can afford from this collection. Goodbye.
Now to get back to what I normally do instead of talking about Kendall and Kylie's latest fashion release -- writing my erotic fan fiction crossover of "A Song of Fire and Ice" and "Keeping Up With the Kardashians."
...What are you still doing here?
Oh, fine. I'll show you what else you might be able to afford if  you mow some extra lawns this summer.
Duchess Satin Shopping Bag -- $125
Did you know that in California, where Kendall and Kylie live, they make you pay for grocery bags? Yes! Even at Target!
Everyone has to bring their own reusable one, or else they'll charge you at least ten cents for each plastic or paper bag they give you.
When you think about it, that really adds up, so maybe dropping $125 on a bag will be cheaper in the long run. I certainly wouldn't forget my grocery bag if it cost me that much money.
Corset Bodysuit -- $175
One time my mom saw me putting spanx on to fit into a bridesmaid's gown, because lets face it ladies, when you hit my age (and also drink more regularly than you exercise) things start going south, and she yelled at me. She was all:
We didn't burn our bras in the '70s so you could wear these anti-feminist articles of restraint and body shaming!
Imagine how pissed your hippy mom would be if she found out you not only wear corsets but you also spent a month's worth of groceries on it!
Hi-Rise Vintage Jeans -- $195
They have a safety pin instead of a button, so if anyone questions your fashion choice you can poke 'em real good.
Paperbag Sweatpants -- $295
These better feel like god damn heaven on my lazy days if I'm spending almost $300 on sweatpants.
I would wear these to my wedding, TBH.
You can check out the rest of the collection here and buy it while you still can.
Citations: In Case You Blinked, The Latest Kendall + Kylie Collection Is Already Sold Out (Refinery29)