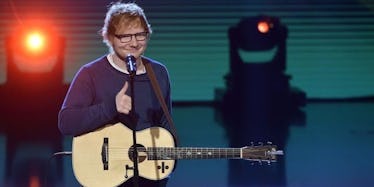 This 2-Year-Old Looks So Much Like Ed Sheeran, It's Freaking The Internet Out
REX/Shutterstock
It isn't always easy being Ed Sheeran.
Sure, he's one of the world's biggest pop stars right now, and his new tune, "Shape of You," is stuck in pretty much everyone's head.
But fame comes at a price, and there's no doubt there are times when the British singer just wants to get away from it all.
Well, luckily for Ed, if he ever needs a lookalike to fill in and get mobbed by fans while he kicks back for a well-earned rest, we've found the perfect replacement.
And it's a 2-year-old girl.
Meet Isla Walton.
She's a toddler from Exeter, England, an amateur Ed Sheeran impersonator and – as someone on Twitter pointed out – somehow manages to look even more like Ed than he does.
Her mom, Zoe, told DevonLive,
It is completely madness. Everyone has been saying that Isla looks like him for a long time and I never thought anything of it. It was when my sister Stacey put it online that we got loads of comments from people. I look at Isla sometimes and just think 'wow,' and people have pointed out to her who she looks like and now she likes to watch him on TV.
Stacey added,
Everyone comments saying how she's a mini Ed, and I call her baby Sheeran. She loves his music, tries to sing along to the words and has a dance.
OK, Isla might be the cutest Ed impersonator around... but she probably isn't the best.
That honor belongs to Ty Jones, a man who last year complained his ridiculous likeness to the singer has ruined his love life.
He told the Daily Mirror,
When Ed became really famous I had people always coming up to me and talking to me and wanting my picture - it was crazy. He's such a big artist and I'm a massive fan of his but now it's like I can't escape it, people go mad when they think they're meeting Ed Sheeran.
I think there are worse problems to have, buddy.
Citations: DevonLive, Daily Mirror