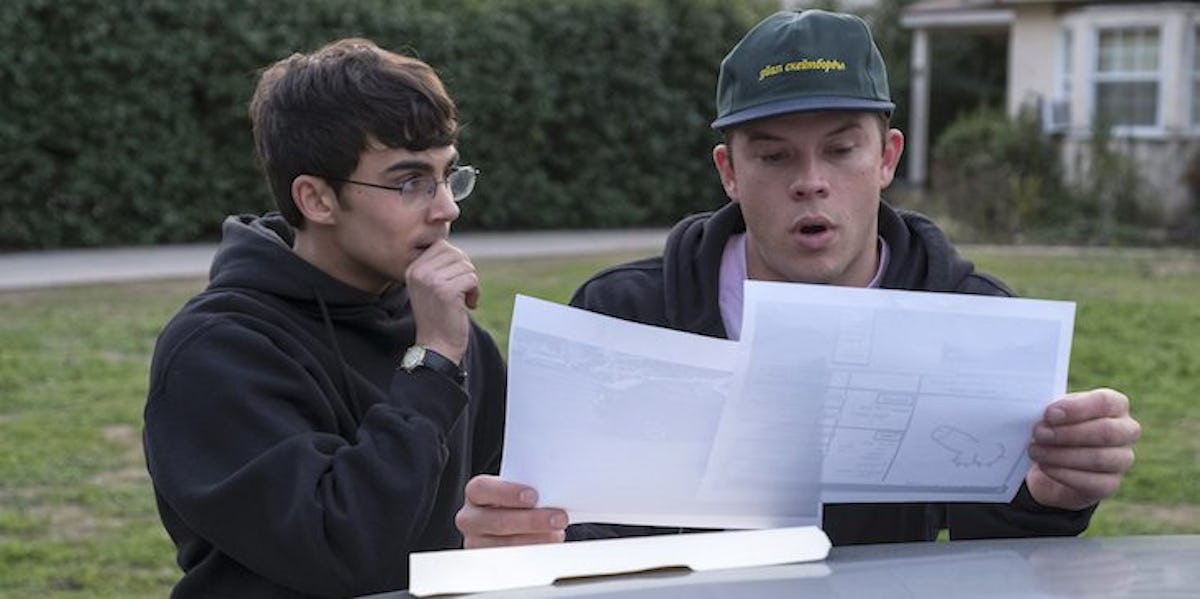 Meet The Cast Of 'American Vandal,' Netflix's Hilarious Mockumentary
Netflix
After the wave of true crime documentaries that dominated television last year, it's no wonder that the recent hit genre is finally getting its own spoof show. Netflix is releasing its send-up of the true crime genre American Vandal this Friday (Sept. 15), and it looks all kinds of ridiculous and hilarious. But aside from the insane plot of the eight-episode series, it is also introducing a young cast to the world, many of whom haven't appeared in major productions before this. Here's everything you need to know about the American Vandal cast.
First, let's get you caught up on just what American Vandal is. The mockumentary series brings a hardboiled, investigative eye to an incident at Hanover High School, where rebellious young punk named Dylan is accused of spray-painting dicks onto all the cars in the parking lot. Since drawing dicks on things is kind of known around the school as Dylan's calling card, he's the obvious prime suspect, but another student named Peter digs deep and believes he's uncovered a massive conspiracy theory behind the whole ridiculous graffiti incident. The series sends up recent serious hits like The Jinx, Making a Murderer, The Keepers and the podcast Serial, all of which received massive attention and defined the true crime boom in media in recent years. You might also get a hint of Netflix's recent smash 13 Reasons Why, another high school-set drama centered on a mysterious event. Get a better sense of American Vandal by checking out the LOL-worthy trailer for the new show:
Now, although the new series is full of new, young talent, you might have recognized a few of the faces from the trailer. Here's your breakdown of the stars of American Vandal:
Jimmy Tatro
Dylan is the dick-drawing bandit at the center of American Vandal, and he's also the star that most young viewers will recognize. Jimmy Tantro is best known for his comedic YouTube presence, and has also appeared in major comedies like Grown Ups 2, 22 Jump Street, and Boo! A Madea Halloween. He dated Hannah Montana star Emily Osment for a while a couple years ago, but the two have since broken up.
Tyler Alvarez
Dylan may be the focus of the investigative spoof series, but the character we follow most closely is Peter, the student leading the investigation into the dick-drawing incident. Nickelodeon fans may best know Tyler Alvarez for his portrayal of the magical Diego in the teen sitcom Every Witch Way, but he's also worked with Netflix before. Alvarez has popped up on a handful of episodes of the streaming network's prison drama Orange Is the New Black as Benny, the son of inmate Gloria Mendoza.
Griffin Gluck
Another face American Vandal viewers may find familiar is Griffin Gluck. The young actor has had small parts in comedies like Just Go With It and Why Him?, along with guest parts in sitcoms including The Office, United States of Tara, Silicon Valley, and The Mick. He most recently starred in the children's comedy film Middle School: The Worst Years of My Life.
G Hannelius
The Disney vet in the cast, Genevieve "G" Hannelius is best known by young fans for roles on various Disney Channel shows. G had recurring and guest parts on Sonny with a Chance, Hannah Montana, Jessie, and Good Luck Charlie before landing her own Disney-approved lead role on the sitcom Dog with a Blog. She's also a singer who's released a number of pop singled, and does nail art tutorials on YouTube.
Calum Worthy
Disney star number two, Calum Worthy is best known for his lead role on the long-running Disney Channel comedy Austin & Ally. Worthy also has a very long list of network television and film credits, including guest spots on shows like Supernatural, Smallville, and Kyle XY, among others. You'll see him next as a main role in the upcoming Freeform superhero series New Warriors.