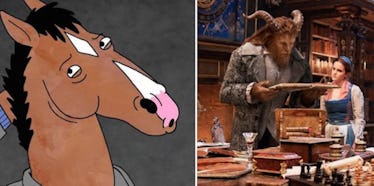 Here's Everything Coming To Netflix In September & Wow, Is It Good
Netflix/Dismey
As we inch closer and closer to the end of August, it's inevitable to be bummed out that summer is coming to a rapid close. Pretty soon we'll say goodbye to vacations, the beach, and backyard barbecues, and hello to colder weather and pumpkin spice everything. It's not all bad, though; with fall comes comfy sweaters, apple picking, warm cider, and a whole new list of movies, TV shows, documentaries, and Netflix originals that are coming to Netflix in September.
That's right, as usual, Netflix is here to save the day and I, for one, am already pumped to binge-watch some old faves, new original movies, and television series this fall. After all, if there's one way to truly beat the cold weather, it's to grab a warm blanket, some hot tea, and let Netflix do all the rest of the work. We've been blessed during the summer months with awesome new Netflix content like Wet Hot American Summer: Ten Years Later, Atypical, and The Defenders, but the September seriously takes the cake. With that being said, let's take a look at some of the gems that will be making their way onto the streaming service in just a few short days.
September 1
Amores Perros City of God Dead Poets Society Deep Blue Sea Disney's Hercules Disney's Mulan FINAL FANTASY XIV Dad of Light: Season 1 Fracture Gangs of New York Gone Baby Gone High Risk Hoodwinked Hotel for Dogs Jaws Jaws 2 Jaws 3 Jaws: The Revenge LEGO Elves: Secrets of Elvendale: Season 1 Little Evil Maniac: Season 1 Narcos: Season 3 Outside Man: Volume 2 Pulp Fiction Requiem for a Dream Resurface Shaq & Cedric the Entertainer Present: All Star Comedy Jam Shaquille O'Neal Presents: All Star Comedy Jam: Live from Atlanta Shaquille O'Neal Presents: All Star Comedy Jam: Live from Dallas Shaquille O'Neal Presents: All Star Comedy Jam: Live from Las Vegas Shaquille O'Neal Presents: All Star Comedy Jam: Live from Orlando Shaquille O'Neal Presents: All Star Comedy Jam: Live from South Beach She's Gotta Have It The B-Side: Elsa Dorfman's Portrait Photography The Last Shaman The Lost Brother The Rugrats Movie The Secret Garden The Squid and the Whale West Coast Customs: Season 5 Who the F**K is that Guy
September 2
Vincent N Roxxy
September 4
Graduation
September 5
Carrie Pilby Facing Darkness Like Crazy Marc Maron: Too Real Newsies: The Broadway Musical
September 6
A Good American Hard Tide
September 7
The Blacklist: Season 4
September 8
#realityhigh Apaches: Season 1 BoJack Horseman: Season 4 Fabrizio Copano: Solo Pienso En Mi Fire Chasers: Season 1 Greenhouse Academy: Season 1 Joaquín Reyes: Una y no más Spirit: Riding Free: Season 2 The Confession Tapes: Season 1 The Walking Dead: Season 7
September 9
Portlandia: Season 7
September 11
The Forgotten
September 12
Jeff Dunham: Relative Disaster
September 13
Offspring: Season 7 Ghost of the Mountains
September 14
Disney's Pocahontas
September 15
American Vandal: Season 1 First They Killed My Father Foo Fighters: Back and Forth George Harrison: Living in the Material World Larceny Project Mc²: Part 5 Rumble Strong Island VeggieTales in the City: Season 2
September 18
Call the Midwife: Series 6 The Journey Is the Destination
September 19
Disney's Beauty and the Beast Jerry Before Seinfeld Love, Sweat and Tears
September 20
Carol
September 21
Gotham: Season 3
September 22
Fuller House: New Episodes Jack Whitehall: Travels with My Father: Season 1 The Samaritan
September 23
Alien Arrival
September 25
Dark Matter: Season 3
September 26
Bachelorette Night School Restless Creature: Wendy Whelan Terrace House: Aloha State: Part 4
September 27
Absolutely Anything
September 29
Big Mouth: Season 1  Club de Cuervos: Season 3 Gerald's Game Real Rob: Season 2 Paul Hollywood's Big Continental Road Trip: Season 1 Our Souls at Night The Magic School Bus Rides Again: Season 1
September 30
Murder Maps: Season 3
The streaming service will also have new episodes of Chelsea on Friday nights and new episodes of Rick and Morty (UK only) on Sunday nights. If you're not excited for September now, I don't know what else to say!