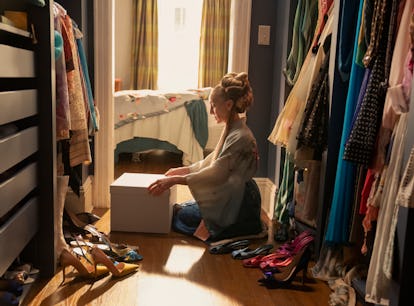 And Just Like That Upcycled Carrie's Most Iconic SATC Dress As "A Huge Easter Egg"
Who else gasped when she put this on?
Max
Carrie Bradshaw isn't usually one to repeat an outfit, but there's one iconic look that she just couldn't keep hidden away forever. At the very end of the And Just Like That Season 2 premiere, longtime Sex and the City fans were hit with a tidal wave of nostalgia, as Carrie put on a very memorable gown 15 years after the last time she wore it. Bringing back Carrie's Vivienne Westwood wedding dress wasn't as easy as pulling a box out of a closet, and Sarah Jessica Parker admitted it was "terrifying" to get back into such an important piece of the show's fashion history.
The big moment came at the end of the first episode of And Just Like That Season 2. After her plans for a Met Gala dress fell through last-minute, Carrie decided to pull out her wedding dress and reclaim the pain associated with the garment by making it her Met Gala look. The new version of the dress added a royal blue cape and matching opera-length gloves to the ensemble, updating the look to glamorous new levels.
Famously, the dress first appeared in 2008's Sex and the City movie. Westwood gifted Carrie the dress for her wedding to Big, but as Big became more and more anxious about the growing size of the ceremony, he calls the wedding off day-of, leaving Carrie devastated on the streets of New York City in her couture gown.
Sarah Jessica Parker revealed that getting the Vivienne Westwood original back for And Just Like That was a difficult task. "We weren't entirely certain that we could get the dress back," she told People. "It was in London and unearthing it was complicated — getting it through customs in time and then making sure was this, in fact, the original dress? The color looked different."
She also admitted to some nerves when stepping back into such a well-known look again. "Thank goodness it fit!" Parker said. "It was very special to have it back in our possession for a brief period and to figure out how it helped tell this story now."
Showrunner Michael Patrick King wanted the scene to feel like "a huge Easter egg for the fans," especially the moment when Carrie opens the box in her closet and all that is shown is the unique bird headpiece. "I knew that that was the gold to show that bluebird in that box for everybody who knows what that means," King said.
New episodes of And Just Like That Season 2 stream Thursdays on Max.