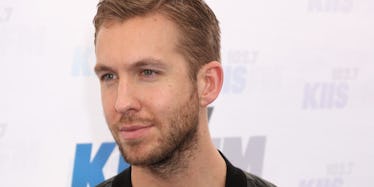 Is Calvin Harris Getting Back At Taylor Swift By Hooking Up With This Celeb?
Shutterstock
So Calvin Harris and Nicole Scherzinger. Let's discuss.
The A-listers have been partying together in London and we really want confirmation the Scottish DJ is rebounding hard after his split from Taylor Swift. But how excited should we be getting?
Well, before we celebrated Calvin's new-found love, it's worth noting that apparently they're just friends -- even though they left a nightclub linking arms:
A source told E! News, "They're casual friends, and if they see each other at a club or party they will chill. They are not hooking up or hanging out. Calvin isn't rebounding with anyone at this time."
Ah, man. We're all really rooting for the song-slayer to forget about Tay with a hot new distraction. And since Nicole has been romantically linked to Swift pal Ed Sheeran in the past, this hookup would be extra juicy.
But alas, Nicole is said to be dating tennis player Grigor Dimitrov. BOO.
As for Hiddleswift? Well, it sounds like things are moving pretty fast. Apparently Taylor has said that Tom is "husband material." Shut the front door.
Last week, Calvin dropped his new track, "Ole", featuring John Newman, which is allegedly about Swifty cheating on him with Tom Hiddleston.
But it's not as sassy and in-your-face as you'd imagine. Actually, quite the opposite. The tune is slow and a bit heartbreaking. It makes you want to cradle Calvin's sad head as he nestles into you for emotional support. Check out some of the lyrics.
It opens with, "Low-key, you won't tell none of your friends about me. You won't tell them I occupy your dreams and your thoughts. Look at what we have started."
And another intriguing line goes, "There's no telling how far you can go, you've hidden my name on your phone so you can call me to tell me you've been going through hell, left him alone and you booked in a hotel."
Make of that what you will...