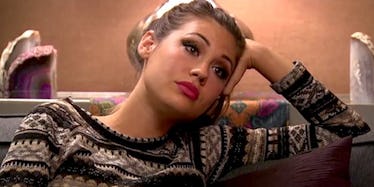 Britt From 'The Bachelor' Opens Up About Her Eating Disorder While Filming
ABC
Being a contestant on The Bachelor is not as easy as viewers may assume, especially if you're struggling with addiction or other harmful mental disorders. Take it from Britt Nilsson. The former Bachelor contestant is opening up about the particularly excruciating time she had on the reality show. Apparently, Britt Nilsson's eating disorder took a huge toll on her during Chris Soules' season of The Bachelor.
Earlier this month, Britt shared in a YouTube confessional she struggles with an eating disorder and alcoholism, both of which were exacerbated by her stint on The Bachelor. She said she went to extreme lengths to hide her bulimia from fellow contestants and producers because she knew if anyone found out, it would become her sole storyline on the show. Britt admitted to hiding her mic under towels to muffle the sound of her throwing up in the bathroom.
I would take my mic off and try to hide it under towels so they wouldn't hear me throw up, because then that was going to be on the show and that was going to be a plot line. How horrible would that be, to be the girl who has an eating disorder, who can't stop eating and throwing up? I mean, I had broken blood vessels. I would throw up until I was bleeding out of my nose. I just couldn't stop, and that's kind of been a theme in my life.
Along with her eating disorder, Britt also revealed she has struggled with an alcohol addiction throughout her life. As is pretty common knowledge among viewers at this point, The Bachelor is a pretty boozy show, and former contestants have even accused producers of pushing alcohol onto them. Obviously, it's a pretty terrible environment for an alcoholic.
In the end, Britt's efforts to hide her struggles with addiction wound up working, as the show didn't air anything about eating disorders. Now, things seem to be much better for Britt — she recently announced her engagement to boyfriend Jeremy Byrne.