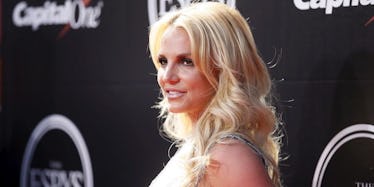 A Britney Spears Lifetime Movie Is Coming -- Justin Timberlake Era Included
REUTERS
Britney Spears always knows how to hit us one more time with amazing projects. Seriously, the Queen of Pop has got us hooked.
Have you ever wanted to curl up on the couch and watch a movie about the entire life story of the singer who introduced you to pop music as you know it? Maybe on, Lifetime?
Well, that wish will be granted. Some time in 2017, a biopic about the one and only Britney Spears is reportedly coming to Lifetime. Yes, you read that right. Britney. Spears. Biopic.
It's tentatively titled "Britney." Can you tell I'm fangirling so hard right now?
This biopic will cover all the Britney bases. We're talking everything from early days in the "Mickey Mouse Club" to mega-stardom to shaved-head quarter life crisis and much more.
Of course, Lifetime won't short us on Britney's relationship drama with Justin Timberlake and her failed marriages either. Fans will be given the gift of two glorious hours of Britney biopic.
Natasha Bassett is set to play the "Oops!... I Did It Again" singer.
You can see Natasha is already channeling her inner Britney.
This is obviously a super busy year for the mother of two. She's releasing her ninth studio album, Glory, on Friday, August 26.
We're just glad the 34-year-old is still dazzling us with her talent and showing no sign of stopping.
Citations: Britney Spears TV Movie Is Coming to Lifetime: Find Out Who Will Play the Pop Star! (US Weekly)