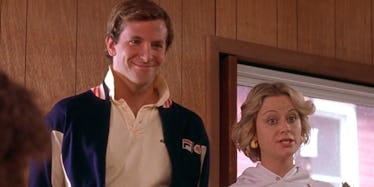 Why Wasn't Bradley Cooper In The New 'Wet Hot American Summer' Trailer?
USA Films
It doesn't matter how many Wet Hot American Summer revivals Netflix makes, I will watch every single one of them.
In 2015, Netflix brought us Wet Hot American Summer: First Day of Camp, and now the campers are returning once more for Wet Hot American Summer: 10 Years Later. (It's actually been 16 years since the original film's release, but close enough.)
The trailer for the new eight-episode series dropped yesterday, bringing back all the old stars like Amy Poehler, Elizabeth Banks, and Paul Rudd. There are quite a few new ones, too, like Kristen Wiig and Chris Pine.
Well... almost all the stars. With title card after title card of star power names, there was one name fans were waiting for that never came: Bradley Cooper.
2001's Wet Hot American Summer was somewhat of a break for Cooper: his very first feature film. He had just graduated college right before production began.
He played the role of Ben, the camp counselor in charge of producing the camp talent show alongside Amy Poehler, who is revealed to be in a relationship with Micahel Ian Black's character, McKinley.
Unfortunately, it looks like Cooper's busy schedule as a famous movie star will prevent him from returning for this revival. (Although he technically is in the trailer, albeit via archival footage of him suggesting the counselors reunite in 10 years.)
But Cooper's not on the cast list, so it looks like he's officially being written out of the revival. It's not surprising, really — Cooper was in the middle of production on his film, A Star Is Born, which he not only stars in alongside Lady Gaga, but also directed and wrote.
He's also in the middle of production for Avengers: Infinity War, as the voice of Guardians of the Galaxy fan-favorite, Rocket.
So you can't blame the guy for being a little busy.
I guess that means McKinley, who seems to have a large role in 10 Years Later, is probably, sadly, no longer married to Ben. (Though I doubt that wedding would be recognized by the state, anyway.)
Cooper did make a brief appearance in First Day of Camp, but his role was significantly cut down (and replaced with a mask-wearing stand-in, at one point) to accommodate his busy schedule.
So it is possible Ben will still make an appearance in Wet Hot American Summer: 10 Years Later – he might just be wearing a mask.
And I wouldn't give up hope on a cameo just yet!
Meanwhile, there are plenty of other stars to make up for Cooper's absence. I mean, hello, creepy murderer Chris Pine?
Here for it.