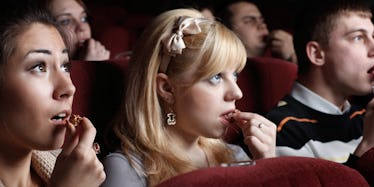 5 Bestsellers Hit The Big Screen In 2017, So Bring Your Book Club On A Date
Did you ever have that kid in your class who referred to Atticus Finch as Gregory Peck... or worse, Jay Gatsby as Leonardo DiCaprio?
There always seem to be those few students who try to take shortcuts by watching a two-hour movie, as opposed to reading an assigned book. More often than not, there's usually a slip-up.
I get it. Books and films have been at odds forever, both dueling it out to be the best medium. But here's the good thing: You can enjoy both.
This year, some of our favorite bestsellers are making their way to the big screen, and we can't wait to see the film adaptations of these stories.
To best prepare for these 2017 movie releases, read the books. Then, head to the movie theater with your best buds to compare the two. There's enough love to go around.
Here are the five books-turned-movies that'll have us lining up at the box office:
Fifty Shades Darker, $10, Amazon 
Release Date: February 10, 2017
Starring: Jamie Dornan, Dakota Johnson
Goodness gracious, you're going to want to bring a wet towel to this one. It's basically a slew of steamy scenes, and you'll need something to help you cool off.
In "Fifty Shades Darker," a business tycoon with a rough past (and a hell of a lot of, um, interesting sexual desires) attempts another shot at a relationship with his beloved Anastasia Steele. But when Christian Grey's past resurfaces, things get complicated... and sexy.
Kinda odd there's a Taylor Swift song featured in this flick, no?
The Lost City of Z, $10, Amazon 
Release Date: April 21, 2017
Starring: Charlie Hunnam, Robert Pattinson
Journalist David Grann tried to piece together British explorer Percy Fawcett's 1925 Amazon quest to find a rumored civilization.
But Fawcett never returned from his journey.
Grann gathered the adventurer's findings on this city, and made his way to the Amazon for his own adventure. Check out his discoveries.
The Nightingale, $10, Amazon 
Release Date: TBD
Starring: TBD
A culmination of WWII's atrocities, young love and the heartbreak that comes with betrayal, Kristin Hannah's 2015 bestseller is going to be a must-see.
We'll watch the lives of two sisters unfold, and get a take on the infamous war from a woman's perspective.
The Glass Castle, $11, Amazon 
Release Date: TBD
Starring: Brie Larson, Naomi Watts
The 2006 memoir that found a place on everyone's shelves chronicles Walls' unstable, atypical childhood with parents who were anything but conventional.
Although the author once hid her experiences, "The Glass Castle" reveals all in what will surely be a raw and emotional movie.
5. "Let It Snow" by John Green, Maureen Johnson And Lauren Myracle
Let It Snow, $7, Amazon 
Release Date: November 2017
Starring: TBD
All you have to say is "John Green," and YA enthusiasts across the country will be hooked.
We're still sobbing over "The Fault In Our Stars" and making sense of Margo in "Paper Towns" – great books, great movies – but we're always up to devour his next story in print or on screen.
"Let It Snow" is three love stories rolled into one. We'll save you a seat.
Citations: 17 Books to Read Before They're 2017 Movies (PopSugar)