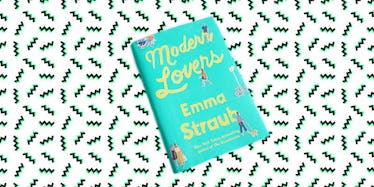 4 Books You Need To Read Over The Long Weekend
Kylah Benes-Trapp
This year, the Fourth of July falls on a Monday.
That means you have three entire days (maybe even three and a half, if your boss lets you out early) to do absolutely nothing but eat, be patriotic and read. Three-day weekends are truly heaven on Earth.
In order to celebrate, put on your most comfortable red, white and blue and pick up one of these books.
Just don't blame me if you miss the fireworks because you couldn't stop turning pages.
Simon & Schuster
Charlie Silver is a tennis star who suffers a nearly career-ending injury at Wimbledon, and the only person who can help her get back to the top is Todd Feltner. Feltner is a hardass with quite the reputation -- a reputation for winning and a reputation for aggression.
He's ready for Charlie to shed her "good girl" image, but will Charlie lose herself on the way to greatness?
The Singles Game, $11, Amazon 
Scribner
If you were too busy last summer to pick up "Intimacy Idiot," now's your chance.
Isaac Oliver's poignant, relatable essays will allow you to escape the drama and minutiae of your own live as he sweeps you into a whirlwind of New York, cocktail parties and, of course, love.
The Intimacy Idiot, $11, Amazon 
Riverhead Books
Is there anything more patriotic than reading a book about Texas?
In "The After Party," we meet Joan Fortier, a Houston debutante in the 1950s who everyone wants, or wants to be. But Joan just isn't satisfied with her life and she needs more.
Her best friend, chaperone and basically sister, Cece, doesn't necessarily approve of Joan leaving their world, and she'll do anything to bring her back in.
The After Party: A Novel, $11, Amazon 
Riverhead Books
Elizabeth, Andrew and Zoe are former college bandmates, and since those days, they've seen each other grow, get married and have children.
Now in their 50s, they're neighbors in gentrified Brooklyn facing a new milestone together: their kids reaching maturity and eventually sleeping together.
As middle age sets in, secrets (and a famous fourth band member) are revealed, and Straub takes on nosiness, passion and the fleeting concept of youth.
Modern Lovers, $11, Amazon