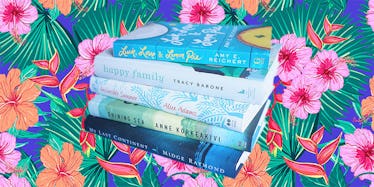 5 Books You Should Read This Summer -- Judged By Their Covers
Kylah Benes-Trapp
I'll admit it: I'm drawn to books with visually appealing covers.
I can't help it. I want my color-coded bookshelf to constantly look fresh and vibrant. I read "Gone with the Wind" because the version at my library had gold-plated pages and a maroon leather cover. I like having the option to Instagram what I'm reading next to a latte.
Sure, it might seem shallow and goes against the famous cliche, but I really don't care. My entire reading experience is just so much better when the cover is engaging.
So without further ado, here are five of the most beautiful book covers this summer, ranked entirely by my own judgement and taste.
Gallery Books
If the blue, white and yellow tones on the cover don't draw you in right off the bat, Reichert's tale of marriage, luck and love probably will.
In "Luck, Love & Lemon Pie," MJ Boudreaux notices her husband is starting to gamble more and more often. She responds by picking up poker herself and, as luck would have it, she develops a talent she never knew she had.
MJ continues to win until it comes to the point where she has to choose between a new life and her family.
Lee Boudreaux Books
"Happy Family" is a story of a woman figuring out her life and family members -- the ones who adopted her as well as the ones who gave her up.
Readers may not be able to completely empathize with Cheri Matzner, but they can definitely relate to her struggle of identification and figuring out relationships with our parents. Plus, the green and white cover will be pretty hard to put down.
Little, Brown and Company
You're about to see Alice Adams' "Invincible Summer" on every bookshelf, coffee table and Instagram account.
The red, white and blue cover surrounds a story four four friends about to graduate from college. We follow Eva, Lucien, Sylvie and Benedict over the next 20 years as they grow, grow apart and come back together when they need one another. It's a tale as old as time, but Adams' spin is fresh and makes you want to send an emotional text to all of your college friends.
Scribner
Midge Raymond's novel "My Last Continent" is a love story with a blue cover that's almost as breathtaking as the tale itself.
For a few weeks every year, Deb and Keller go to Antartica to study penguins, get away from their lives and spend time with one another. When the newest season begins, Keller is nowhere to be found.
Deb soon learns he's aboard a sinking ship, and "My Last Continent" dives into the ideas of love, loss and tragedy.
On sale: August 9, 2016
Little, Brown and Company
"Shining Sea" is one of those books that will definitely make you homesick and miss your family.
Spanning decades, the novel introduces us to the Gannons. We travel from Southern California to London to Woodstock to Scotland as they experience war, death and the power of family.
It'll look good on your bookshelf, and it'll make you cry. It's a win-win.