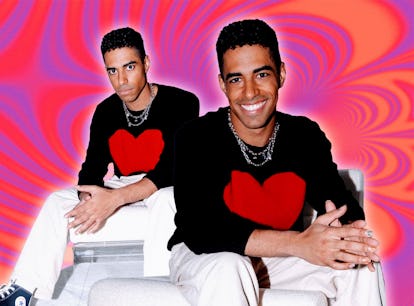 Welcome To The Boman Cinematic Universe
Thanks to his TikTok spoofs and Bodashians series, Boman Martinez-Reid is leveling up.
Lindsay Hattrick/Elite Daily; Eden Graham
On TikTok, chances are you've encountered Boman "@Bomanizer" Martinez-Reid in one of his hilariously over-the-top reality TV parodies, perhaps holding a glass full of random objects while serving an icy stare, or sitting on a confessional chair, delivering a monologue in a dry, monotone voice. When the 25-year-old Canadian content maker began editing clips of himself and his friends behind the scenes of their high school production of Hairspray, which he dubbed Behind the Spray, he wasn't aiming for internet superstardom. "It was just for my friends. I realized how much joy that brought me," he tells Elite Daily over a Zoom call from his place in Toronto. But as a teen, Boman recognized creating and starring in his own show was his ultimate dream.
Flash forward a few years, and Boman found himself striking a pose on the red carpet at the 2022 Oscars and the 2023 Golden Globes, which happened to take place on his birthday. "It was kind of boring," he deadpans, flashing a big smile. In reality, he says flashy awards shows are scary and intimidating IRL. "You watch it on TV and it seems so effortless and nice," Boman says. Still, he met some of his favorite creators, including YouTuber Cody Ko ("He goes, 'Hey, big fan of your content.' And I went, 'Are you kidding me?') and The White Lotus legend herself, Jennifer Coolidge. "I said, 'Jennifer, the gays are trying to kill me too.' And she said, 'What?' And she laughed and walked away. Perfect interaction."
Boman's passion for comedy and editing began much earlier than high school, beginning with family holidays in the early '00s. "That's like ancient history," he says, laughing, before reminiscing about his mother's Anna Martinez Family Christmas Show, a family event that would happen every Christmas after dinner, before dessert. "All of the cousins would put on sketches for the rest of the family," Boman explains, adding that they began to film the homemade show on camcorders. "We needed somebody to edit the videos. That was my job."
Eventually, he started spinning real-life moments hanging out with his friends into over-the-top, high-drama tension in the form of Reid It and Weep, a faux reality TV series on YouTube. The skills honed from his home projects would eventually lead to his acceptance into Toronto Metropolitan University, where he studied media production, radio, and television. An internship at MTV Canada only further solidified his drive to be part of the entertainment industry somehow, either behind the scenes and/or in front of the camera.
"I had this epiphany one day: I want to use myself to create, and to tell stories. I wrote down in my journal that I was going to have an audience, and that I was going to reach many people, and that people were gonna hear my voice and my point of view," Boman says. "I just had no idea how to make that happen."
But back in 2019, TikTok was not the route he'd planned to take. "TikTok was still not cool. It was the biggest red flag if somebody had TikTok. I was dating somebody that had TikTok. I was telling all my friends and they were like, 'Oh my God, you have to end it, abort!'" he says. "But then that same person went viral, and I was like, wait a second… there's something here."
By February of 2020, Boman went viral for the first time, transforming a clip of his roommate leaving a small, unswept pile of dirt on the ground into an unspeakable, unforgivable show of disrespect. "It absolutely changed my life," Boman says. From that point on, Boman continued to call on his close circle of friends and family to lampoon their lives, turning tiny conflicts and shady side-eyes into monumentally comedic plot points.
Ironically, despite early comparisons to Keeping Up With The Kardashians and his now-recurring Bodashians series, Boman hadn't actually watched that show for inspiration; his point of view was informed by The Real Housewives franchise. "To me, Housewives is quintessential reality television — all of those table-flipping moments, throwing a glass, water in the face… that was what I was making, and those were all of my references," he says, pointing to Kandi Burruss and NeNe Leakes reaction GIFs as inspiration.
The content evolved as Boman began parodying celebs with his original franchises, including The Bodashians, plus Drag Race All Stairs, a play on RuPaul's Drag Race All Stars, which found him and his friends emulating the show's runway segments by waltzing down the stairs in ridiculous outfits amid the boredom of lockdowns. The cast of characters grew as well, creating a kind of Boman Cinematic Universe, including his best friend Eden, his stepsister Alyssa, and his mother as the main cast members.
What became silly spoofs of Drag Race turned into lively debates in the comments —"I'm Team Eden!" or "I'm Team Boman!" — and drew glowing feedback from Drag Race favorites like Bob the Drag Queen and Monet X Change, plus the show's official account. Eventually JoJo Siwa and Lil Nas X took notice too. "I feel like I'm making a huge inside joke with like a million people," he says before correcting himself: "Two million people. It's crazy."
Being a content creator on the internet comes with its fair share of misconceptions. Short videos can be passed off as very casual, DIY humor at home — anyone can do that! — when in reality, there's often much more happening behind the scenes, especially in Boman's case. "People ask me all the time. 'Do you edit your videos?' Yes! That's what I do, every day. I'm sitting there for hours, editing a one-minute video. And it takes so long," he says, getting more animated while explaining the process.
"The comedy really comes out in the editing," he says. "My new favorite thing is to take royalty-free music and put lyrics to it, so it feels like Netflix music. I can do it pretty quickly, but at the beginning, it was like eight hours to make a one-minute video. People don't really realize how much work goes into it… there's a lot that happens."
He's especially proud of Bodashians, a project he banked for several months beginning in May of 2022, allowing him to take his time to film, edit, cut trailers, create a song, and slowly roll out in October. The likes and comments are great, he says, but making the internet your full-time gig means encountering unpleasantries along the way — and some undesired competition, too. "Social media is so exhausting," he sighs, exasperated. "I used to think that it wouldn't be exhausting if I had a million followers. At least I'd get like a thousand likes! Why would I care? You don't realize how your entire life becomes social media."
Boman does not seek out feedback on his videos often, nor does he partake in internet drama, aside from a recent "situation" involving a younger creator making "very similar" videos. After ranting about said situation in a video, he deleted it once the comments, mostly in Boman's defense, poured in. It became an important reminder not to take things so seriously. "I learned that day that I just have to mind my business and create my content, and not look at anybody else," he says.
Like Benito Skinner, Chris Olsen, Tefi Pessoa, and Rob Anderson, Boman is now in a category of influencers that have gone from funny, relatable content creators to seemingly-overnight successes backed by legit Hollywood agents. (Boman signed to Creative Artists Agency in 2020.) With more notoriety comes more opportunities. One of his biggest pinch-me moments came during Season 2 of Canada's Drag Race, where he appeared as one of the contestants on Snatch Game. "That was like walking into Willy Wonka's Chocolate Factory. It was a dream. It's one of my favorite shows," he says. "It's the inspiration behind so much of my content."
Despite his recent wins, Boman, who is openly gay, admits he's experienced some bad apples trying to sneak into his orbit more frequently lately. "It's sometimes hard to figure out who's genuine, and who is actually here to just be my friend, or who thinks I'm an anomaly and wants to figure me out," he admits. "I've had to keep my circle quite small for that reason. It's been weird since it started, but I'm smart. A lot of the time, people will reveal themselves to me quite early." Still, he insists, dating is tough for anybody. "There are always people out there who use other people. I'm definitely a brighter target than others, but I don't know… those people are freaks," he says with a laugh.
As far as what's to come in 2023 for Boman, he doesn't know yet. Well, he does actually, he's just struggling with what he can say. "It's the most frustrating question that anybody asks: 'What's next?' Because you can't say anything. You sign things. I can't talk about it. There are so many things that I'm working on that are so cool," he says before dryly adding, "I could be totally lying right now."
He's (maybe) not lying: He's a producer on a project (no further details just yet!) for which he's already interviewed, hired, and started working with writers. It's a surreal experience already, whatever it is. "I'm doing it. I did it myself," he proudly declares. "I had help, of course. But to be here at this point, at age 25, I'm feeling good."