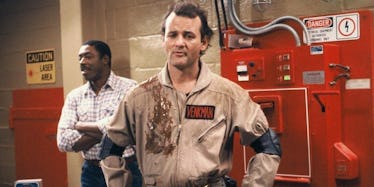 Best News Ever: Bill Murray Will Be Part Of The 'Ghostbusters' Reboot
Columbia Pictures
Bill Murray will appear in the remake of "Ghostbusters," and all of a sudden, this one "big Twinkie" of a franchise seems whole again.
The Hollywood Reporter broke the news that Murray, who played Dr. Peter Venkman in the original movies, will now be appearing in the reboot of the franchise, although he was historically apprehensive about another "Ghostbusters" film.
In a 2014 interview with David Letterman, Murray said he had no problem with an all-female cast, despite jokingly saying the producers should call it "Ghostbabes" once. Murray just worried a third installment in the series wouldn't go well -- you know, like, how "Ghostbusters II" didn't go well.
Murray told Letterman,
We made a first one that was really great, we made a second one not quite as good but had good stuff in it… the studio has always wanted to make another one because they can't come up with any other ideas… It's hard to get another idea that's good enough.
It should be noted, since Paul Feig's "Ghostbusters" is a complete reboot of the series, Murray will probably not be making his appearance as Dr. Venkman.
I would love for him to not have a real role and still just show up while the cast is filming to bomb one of the scenes with words of life advice.
Feig is the writer and director of "Ghostbusters 3," and the movie -- starring Kristen Wiig, Leslie Jones, Kate McKinnon, Melissa McCarthy and Chris Hemsworth -- is set to be released on July 22, 2016.
Citations: He aint afraid of no Ghostbusters Bill Murray is officially in (Mashable)