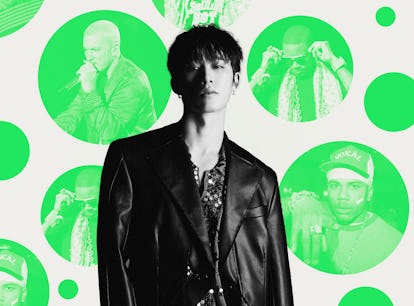 B.I Has Soulja Boy To Thank For His Reintroduction
After a brief hiatus, the K-pop star is back with a new EP.
Elite Daily; 131; Malcolm Ali/Ben Rose/Frederick M. Brown/Getty Images
In Elite Daily's series Early Influences, musicians reflect on the songs and albums that left a lasting impression on them in their formative years. Here, Korean rapper B.I talks about the male artists that inspired his new EP, Love or Loved Part 1.
American hip-hop impacted B.I's worldview at a young age. In 2000, a 4-year-old B.I moved with his family from South Korea to the United States. As a kid growing up in the early aughts, he quickly became obsessed with Nelly and Eminem's music. Though his family moved back to South Korea when he was 7, the influence hip-hop had on the future rapper didn't fade. In fact, B.I brought his love for Nelly and Eminem in his carry-on, and it's good he did.
Nearly two decades later, B.I has dusted off those childhood inspirations to release his first solo EP, Love or Loved Part 1, on Nov. 18. Following his 2021 debut solo albums, Waterfall (an introspective study on loneliness and depression) and Cosmos (a look at growing up and longing), B.I is trading pain for pleasure on his EP. There's a reason he's prioritizing joy.
With a complicated legal battle behind him, B.I is moving forward with a more mindful outlook. You can hear it in his music. Love or Loved Part 1 sees the singer prioritizing genres like pop and dance over his traditional rap roots with lyrics all about romance. "This EP is more joyful," he tells Elite Daily. "There's not a sad song."
Still, traces of the early aughts rappers that first sparked B.I's love for music remain in the DNA of his new songs.
With B.I settling back into the spotlight, what lingers on Love or Loved Part 1 isn't the conversation around its production, release, or even its influences. The record is most simply an account of B.I learning a life lesson more timeless than any musical mentor: B.I's got to love himself to love someone else. Fortunately, it seems like he's well on the way.