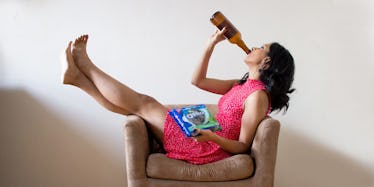 15 Movie And Alcohol Pairings For The Single Girl On Valentine's Day
It's February. It's almost Valentine's Day. F*CKKKKK.
You guys, I get it. I get how much you want to hang yourself on this day if you're single AF like me. This Valentine's Day will be my 26th consecutive Valentine's Day as a single girl (stay tuned for the article to come).
But I refuse to spend it feeling sorry for myself, like I have every other year. I also refuse to let you guys indulge in self-pity. So I've put together a list of romantic movies and the appropriate alcohol pairing so you can laugh, cry and get f*cked up all at the same time.
LADIES, THIS IS OUR YEAR.
"Bridget Jones's Diary" + Vodka
Bridget doesn't mess around -- and neither should you. If you really want to take a page from her book, you've gotta go with a vodka bottle to the face.
I highly recommend keeping a pint of ice cream on hand. This Bernie Sanders Ben & Jerry's should do the trick, because why not support American politics while you get fat?
Invest in Skyy or something. You don't want to deal with the hangover that comes with well vodka.
"The Notebook" + Red Wine
You already know you're going to cry your eyes out. Might as well get hysterical while indulging in a full-bodied red wine. It's so romantic, just like Ryan Gosling.
"Vicky Cristina Barcelona" + Tequila Shots
I have to admit I stopped watching this movie about an hour in because it was that dumb. But what the film lacks in profundity, it makes up for in sexiness. EVERYONE IN THIS FILM IS HELLA SEXY, which is why the drink needs to be just as sexy. Hell, maybe drinking it will even inspire you to go out and score a Valentine's Day bang.
If you want to turn it into a drinking game: Take a shot of Patron every time ScarJo makes you question your sexuality.
"Must Love Dogs" + Pinot Grigio
This isn't exactly a mind-boggling movie, so it doesn't need a super-heavy drink to complement it. White wine is the perfect drink because it's just as digestible as the plot.
Don't let my rules weigh you down. Feel free to pair any white wine with any basic bitch rom-coms, like chardonnay with "13 Going On 30" (because 30 is mature and chardonnay is the driest of the whites), or Reisling with "He's Just Not That Into You" (because Ginnifer Goodwin plays the super SWEET yet incredibly neurotic protagonist).
"Friends With Benefits" + Keystone Light
This movie is just, like, mad chill. Mila Kunis and Justin Timberlake are literally just sitting on a couch watching sports and straight-up chilling half the time. So you need a CHILL beer. Natty Light, Bud Light, Keystone Light. Stay light, my friends.
"When Harry Met Sally" + Champagne
Would a single girl's Valentine's movie list really be legit without a Meg Ryan movie? The scenes in this classic all lead up to that one epic conversation at a New Year's party, so.
Don't be cheap, either. Splurge on the pricey sh*t. Make it count for this hard-to-beat classic.
"Pretty Woman" + Scotch (Neat)
This movie is all about having class and good taste (and, uh, being a hooker), which is why opting for a Glenlivet only makes sense. Pair your scotch with a side of caviar, if you can afford it. (I say treat yourself because you're single on V-Day, and this is the time to do just that.)
Something sparkly would do just fine here, too. It really just depends on whether you're trying to channel Julia Roberts or Richard Gere. They're both BAMFs, so it's hard to choose.
"500 Days Of Summer" + PBR
Whip out a can of an uber-hipster beer for this uber-hipster goodie. Four cans in and you'll be jamming along to The Smiths and Regina Spektor.
Besides, Zooey Deschanel probably wouldn't be friends with you if you drank anything less hipstery.
"16 Candles" + Vodka Cranberry
This was the first rom-com you ever saw, and the vodka cran was the first mixed drink you ever drank. It only makes sense they'd go together. Pretty self-explanatory.
"Forgetting Sarah Marshall" + Sex On The Beach
I'd rather be on a beach off the coast of some obscure Pacific Island than cooped up in my cold-ass apartment in my cold-ass city in the dead of February. But since I can't be because I'm a) broke AF and b) don't have a lover willing to take me on vacation. So I'm just going to go ahead and pretend I'm on the beach with Russell Brand and screwing his hot, British brains out.
"Love Actually" + Alcoholic Eggnog
This holiday-centric bad boy goes with a warm and comforting drink. You might as well throw on a turtleneck sweater, too.
If you don't like eggnog, THAT'S YOUR PROBLEM.
"Amélie" + Spiked Tea + A Baguette
"Amélie," for those of you who haven't seen it, is a cute French film with an equally cute leading lady, so you need to drink something sophisticated, like tea. Here's where you have a bit more creative freedom. I suggest Jack Daniels mixed with honey and chamomile tea. Mmmm.
Oh, and you NEED the baguette, because that's how they do it in Europe. If you're not a bread person, you're a total weir— I mean, chocolate or cheese will do just fine.
"Titanic" + Dark and Stormy
THIS IS STILL MY FAVORITE MOVIE EVER. Rose, you bitch, why the f*ck did you have to let go? Why couldn't you lie the other way on that damn floating wooden board and make room for the supposed love of your life?
By the end of this movie, everyone dies (NEED I REMIND YOU, JACK, THAT YOU DIDN'T HAVE TO), so it's pertinent you drink something equally as dark as the depths of Rose's soul. Rum all the way, baby.
"Bridesmaids" + Rosé
The only way to get through this movie from start to finish is to drink something super f*cking girly. If it isn't pink and sparkling, it isn't the right drink, and you're going to be depressed about being forever a bridesmaid, never the bride.
"Knocked Up" + Weed
Seth Rogen was stoned during the shooting of this movie. (OK, I don't know that for a fact, but I'm 99.7 percent sure he was.)
If you don't have one of those easily transportable baby bongs, you need to get on that. Bowls are overrated, and it'll take longer to get on Rogen's level by hitting a bowl.
Any Judd Apatow film will do here, so go crazy.
Who says Valentine's Day has to suck for singles?! Now go forth and get f*cked up!