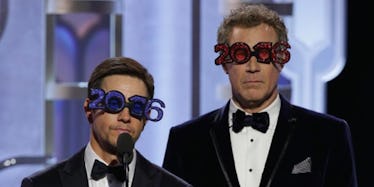 Here Are The Best-Dressed Stars At The 2016 Golden Globes (Photos)
From Leonardo DiCaprio to Lady Gaga, Amy Schumer to Morgan Freeman, stars came out of hiding to attend the 73rd Annual Golden Globe Awards in Beverly Hills, California on Sunday.
Some celebrities brought their A-game in the fashion department, while others went for it and totally missed on the red carpet.
We had a chance to scope out the competition and digest what we had seen before making sound decisions and compiling the best- and worst-dressed stars at the 2016 Golden Globes.
Let's dive in head first.
Jamie Foxx
Jamie Foxx knows what looks good on him, and he brings it every time. Not to mention, his daughter, Corinne Foxx, was Miss Golden Globe this year, so you know he wanted to look extra fresh as her arm candy.
.@iamjamiefoxx is Periscoping on the carpet! #GoldenGlobes pic.twitter.com/kg3HgXuuR6 — Amy Kaufman (@AmyKinLA) January 11, 2016
Jennifer Lawrence
Jennifer Lawrence came ready to win Best Actress in a Musical or Comedy Picture on Sunday, absolutely slaying in a red Dior Haute Couture gown.
She had her hair pulled back, showing off more than 156 carats of Chopard diamonds to accompany the money look.
J Law was winning before the show even started.
Brie Larson
Winner for Best Actress in a Drama Picture Brie Larson owned the red carpet in a gold, custom Calvin Klein Collection dress. The "Room" actress described it "like [being] in a hug consantly," which made her feel comforted on the carpet as the center of attention.
Chris Evans
Chris Evans stood up on stage in a blue tux and Martin Katz cufflinks for about 60 seconds, but that was all it took to do a double take.
He may have only shown up for the open bar, but he left with our hearts.
@ChrisEvans looks so awesome on the #GoldenGlobes last night. Perfection. pic.twitter.com/uEHsw4sYUe — CHRIS EVANS Fan Club (@ChrisEvansphoto) January 11, 2016
Olivia Wilde
Olivia Wilde was a very pregnant vision in green at last year's Golden Globe Awards, and the look was one of her best to date. But on Sunday, the actress reminded us of her goddess-like sex appeal, dominating the red carpet in a scarlet Michael Kors Collection gown.
Honorable Mention: Hubby Jason Sudeikis wore fresh Jordans with his suit and scarlet socks to accent his wife's ensemble.
"The Yeezys have not, in fact, "jumped over" the Jumpman" - Jason Sudekis pic.twitter.com/g8xxi7Jsic — BroBible (@BroBible) January 11, 2016
Laverne Cox
Laverne Cox brought the heat in an all-white Elizabeth Kennedy gown, which trailed behind her and showed off her back for added sexiness.
Dwayne "The Rock" Johnson
The Rock's red velvet suit jacket was the single most on fleek menswear choice at the 2016 Golden Globes. Paired with simple black pants and a black tie, the "Ballers" actor is straight flexing on everybody.
David Oyelowo
David Oyelowo made a daring choice in this purple-checkered Dolce & Gabbana, three-piece suit, and it paid off.
Jaimie Alexander
"Blindspot" actress Jaimie Alexander ditched her character's tattoos for an even more badass look at the Globes on Sunday.
Kirsten Dunst
"Fargo" actress Kirsten Dunst has come a long way since her beginnings in "Jumanji" and "Bring It On."
Sophia Bush
"Chicago PD" star Sophia Bush went simple in a black, low-cut Narcisco Rodriguez gown paired with Martin Katz jewels, and she owned it.
Leonardo DiCaprio
Leo was the MVP of the 2016 Golden Globes, and his fresh-to-death ensemble helped him get there.
"The Revenant" star won us over again on the red carpet, debuting a clean-cut look for the first time in a long time, especially since filming for the now-Golden-Globe-winning film for which he won Best Actor in a Drama Picture.
Jennifer Lopez
Jennifer Lopez opted against the usual tastefully-body-baring gown she so loves to taunt us all in with her flawless, 46-year-old bod. For the 2016 Golden Globes, the "Shades of Blue" actress, instead, fancied a marigold Giambattista Valli dress, probably for its built-in cape feature that made her look like the super woman she is.