Millennials everywhere are fawning over 2016 presidential candidate and Vermont Senator Bernie Sanders.
Today, he stopped by "The Ellen DeGeneres Show" to talk about the importance of speaking candidly with the American people, avoiding the eye-for-an-eye approach to the presidential race and reducing income inequality.
Sanders' candor (along with his opinions on hotly debated topics) is winning over the hearts of the American people.
The juiciest bit of the Democratic candidate's visit, however, was his display of absolute swagger as he danced onto set: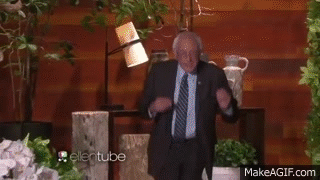 Who knew Senator S was a dancing machine?
This man may have no rhythm, but luckily there's no rhythm required to run for president.
Watch Ellen's interview with Bernie Sanders below.