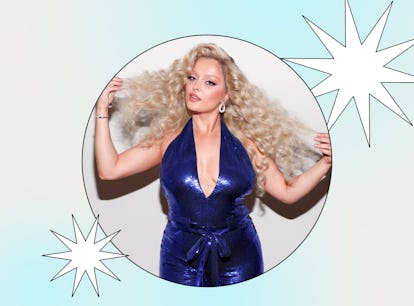 Forget "I'm Good (Blue)" — Bebe Rexha Is Back With Another Banger
It's giving Farrah Fawcett (Google it).
Christopher Polk/Variety/Getty Images
When it comes to creating irresistible melodies, Bebe Rexha understands the assignment. The pop darling knows how to add enough spunk to a track, as evidenced by her reworked dance-hit "I'm Good (Blue)" steadily winning on the music charts. That flare — of wailing vibe-y lyrics in a repeated rhythm — also carries over to her original work. Enter her latest single "My Heart Wants What It Wants," a '70s-inspired dance bop about falling out of love. She also released a music video for the track, and it sees her leaving her heartbreak on the dance floor.
Rexha originally teased this new song, which dropped on Feb. 17, at her album listening party in Los Angeles earlier this month. According to Billboard, the singer did a "deep dive" into '70s music for this release, and it certainly shows. Leaning into those retro frills, Rexha transformed herself into a modern-day Farrah Fawcett with feathered blonde hair and bleached brows. That stunning glam feeds into her 'fits in the video, which bounced from aerobics trainer by day to a sequined bodysuit disco queen at night.
On "My Heart Wants What It Wants," that '70s sound reigns in the production. Opening with rhythmic bass, Rexha softly purrs about how invested she used to be in her past relationship. At one point, her heart ached to stay with her then partner. Now, she's realizing her interest is beginning to fade and it's time for her to move on.
"Already met a man like you / Already seen all of your mo-o-oves / One step ahead, I'm on to you / I feel nothin' when we're lovin', when we're touchin', so," she charismatically sings in the first verse.
Even with her cooing these confident lines, her vocals adopt a shaky timbre — almost as if there's a touch of hesitation to end the relationship. However, once she powerfully delivers the final line of the pre-chorus, Rexha makes one thing clear: This is her world and she makes the rules.
"Go ahead and cry a river / You can go and fill the sea / Don't you know that you're just a game to me?" She sings, her vocals toting an underlying country twang.
Rexha then offers up a disco-slicked chorus that resonates with the dance floor. As her layered harmonies stunningly rustle in the background, Rexha engages in her knack of building a melody into a catchy, body-rocking hook. She repeatedly coos,
"My heart only wants what it wants / What it wants, what it wants 'til it doesn't / I can't promise you love, it was love / It was love, it was love 'til it wasn't, oh."
This infectious declaration is definitely the heart of the track. Though simple, it's something about the whirl of Rexha's raspy vocals that makes the chorus an unforgettable earworm. This section swells with tenacity until the outro, where the track closes with ringing synths and her cooing, "'til it doesn't" to her ex-lover. Well, sorry to that person, because Rexha has clearly moved on.
Check out the music video to "My Heart Wants What It Wants" below, and the full lyrics via Genius.