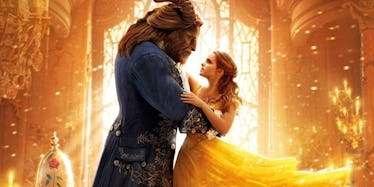 'Beauty And The Beast' Costumes To Do With Your SO This Halloween
Disney
It's a tale as old as time... and a Halloween idea that's perfect for you and your significant other. Beauty and the Beast couple costumes are such a good way to show some Disney love and make all your fairy tale dreams a reality for at least one night. Plus, there are a handful of possibilities when it comes to achieving the storybook look. Whether you're going for classic or outside the box, we're here to help you find a Halloween costume fit for a Disney Princess. Or an enchanted candlestick.
1. Classic Belle and Beast
Well, duh. They're the main couple of the entire story, hence the title. You can head on over to The Disney Store and grab their version of the princess and her prince. You'll surely be the -- ahem -- Belle of the ball with this traditional take.
Beast Costume, $115, Disney Store; Belle Costume, $120, Disney Store 
2. Belle and Beast, The "Sexy" Version
As we all know by now Halloween is the one night of the year where pretty much any costume can be made "sexy." Sexy light bulb, sexy parking ticket... it never ends. If you go that route, there are a variety of fairytale-inspired outfits out there that fit that description. And for Beast, too. When it comes to revealing looks aimed at men, that's not as easy to come by, because of course. But there's always a mask and whatever you're comfortable with on the bottom.
3. Lumiere and Babette
Why not go for a more non-traditional Beauty and the Beast couple? Step out and rep the greatest candle/feather duster romance in fairy tale history. For Babette, all you need is a huge, pouffy feather tutu and a few sassy French phrases to keep in your back pocket. And this candlestick look should take care of the rest.
Lumiere Costume, $60, Halloween Costumes 
Don't beat yourself up if you can't completely pull off Christian Siriano's 2010 version, although it's some great inspo. We can't all be Project Runway-level fashion designers.
4. LeFeu and Gaston
OK, technically they aren't romantically linked, but who doesn't want to be the villain and his trusty sidekick? It gives you an excuse if you act like a jerk all night.
As a specimen, yes, he's intimidating... But The Disney Store has a spot-on Gaston.
Gaston Costume, $70, Disney Store 
LeFou wears a similar 18th-century French outfit -- you just need to make sure you have a very popped white color and a red vest. The hair is the most important element. To be honest, this Pulp Fiction-esque/colonial situation works surprisingly well.
You could also write your own fan-fiction, change the outcome of the story, and mix and match to go as Belle and Gaston... but be prepared for a lot of disapproving looks.
5. Beauty and the Beast, The No Fuss Version
If you're not much for elaborate costumes, you can take the easy way out. This look from Etsy shop Strong Girl Clothing especially works if you're into working on your fitness. The best part is that you can wear it to the gym over and over again. It's the perfect lazy Halloween angle. You can always add wigs or masks if you're feeling like it needs a little somethin'.
6. Enchanted Rose
One of the most important elements of Beauty and the Beast is the enchanted rose. If you're looking for a more abstract interpretation, why not channel that inner magic? You can even pop on a flower clown for further effect. We wouldn't recommend rocking a glass case the whole evening, but your significant other could hold one of those clear umbrellas over you and/or throw rose petals at your feet. It's all about creativity, people.
The Halloween spirit is upon us. Can't you just smell the pumpkin spice in the air? It's never too early to start thinking costumes, people.