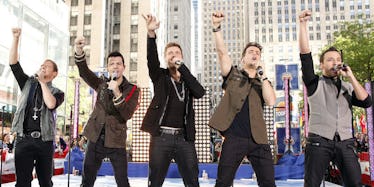 How The Backstreet Boys Have Kept Busy Since Their Boy Band Days
Reuters/Brendan McDermid
There's a lot going on in our post-boy band world. Sure, we have One Direction and Five Seconds of Summer, but we all know those don't really count.
I'm talking about the good ol' days, the frosted tips and crusty hair gel combo days. I'm talking about the days when you had to wait for the latest issue of Teen Beat to get a new poster of your favorite hunk days. Won't you join me down memory lane, friends?
At the risk of getting political, I decided to investigate what members of the greatest boy band of all time are up to. I'm obviously referring to theBackstreet Boys. The Backstreet Boys. BSB. "Backstreet's back," am I right?
I'll stop. I'm just super passionate about this subject, and recently tried to squeeze into a BSB shirt I purchased the same year I got my braces off. Any way you slice it, they're the sh*t.
Oh, and they're still performing, recording and touring together. They're even gearing up for a BSB Cruise throughout Europe. Take that, Timberlake. Regardless of where you stand, we can all agree we're stoked the Boys are part of an epic new Syfy channel movie, "Dead 7." It's a zombie thriller starring members of the Backstreet Boys, *NSYNC, 98 Degrees and O-Town.
You read that correctly. Please check out this mind-blowing trailer, if you haven't seen the movie, which premiered April 1. Before this incredible, sure to be flawless moment in television history, let's catch up with all five of my hubbies:
Brian Littrell
Big B is still doing his thing, aging like a Greek God and taking darling selfies with his hot dish of a wife. The real star of the Littrells these days is Brian's 13-year-old son, Baylee Littrell.
A current cast member of "DISASTER!" on Broadway, Baylee has a popular Instagram account, and plenty of celebrity guidance to show him around the fame game. I smell a Nickelodeon star.
AJ McLean
Oh, AJ. As the resident bad boy of the group, I'd like to personally thank AJ's tattoos for being my "cool pass" whenever my brother made fun of my BSB obsession. He is so badass. After going public with his battle with drugs and alcohol, AJ has been sober for years, continuing to rock nail polish and saucy beards wherever he goes.
He partnered with friend Jordan Omley to create the Live Together Foundation, aiming to raise funds and support for various causes around the globe. Check out his moving music video, "Live Together," and try not to reach through the screen to hug its pint-sized starlet.
Kevin Richardson
When Kevin left the group in 2006, a part of me went with him and that insane jawline. I've had a strong connection with Kevin ever since he smiled in my general direction at a 2006 BSB concert. I'm sure he remembers the moment well. Outside of BSB, Kevin has modeled, performed on Broadway and appeared in a few movies. What a babe.
Howie Dorough
Howie has always seemed like the most reserved of the boys, but he continues to hold his own. He released his solo album, Back To Me in 2011, and is a devoted family man. He was recently honored on the Brevard Walk of Fame.
Nick Carter
Life seems pretty dandy for the lil' baby of the group. First of all, I just found out his middle name is Gene. If that doesn't make your day, you need Oprah.
Nick is currently promoting his new solo album, All American, his third music venture without the entire crew. He married longtime partner Lauren Kitt in 2014, and they have a wee Carter on the way.
Let's take this moment to point out that all of the Backstreet Boys are about to all be DILFS. What is this insanity?