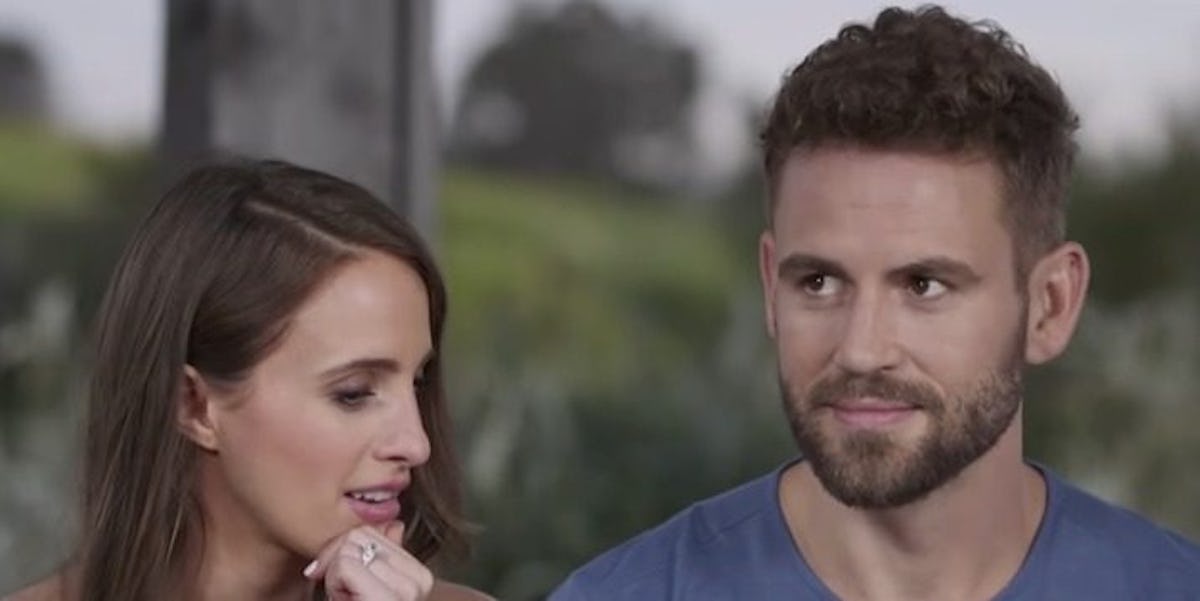 'Bachelor' Nick Viall Talks About Doing 'It' With Vanessa In Cringeworthy Video
YouTube
You know when you're driving down the highway and you see a terrible car wreck on the side of the road? You want to look away, but for some reason, you just can't?
Well, that's kind of like what the below video of "The Bachelor" Nick Viall and his fiancée, Vanessa Grimaldi, is comparable to.
In an exclusive video interview with People, the 36-year-old Viall and the 29-year-old Grimaldi got pretty real about their sex life.
At one point in the interview, "The Bachelor" referred to having sex with the special education teacher as doing "it."
Yes, a 36-year-old man called sex "it," but that's really just the tip of the iceberg for this cringeworthy video. Have a look...
As you can hear in the video above, Viall started off by talking about his secret date nights with Grimaldi.
The 36-year-old said,
Now, we kind of have to secretly see each other. Our date nights are basically time spent in a house. We spend most of our time cooking for each other.
Seems innocent enough, right?
However, the conversation soon turned toward "The Bachelor" and his fiancée's sex life. Speaking further on the activities they did on their dates, Nick Viall said,
So, yeah, we did a lot of cooking and watching movies and... you know... it.
Bad, right???
Shortly after this revelation, Vanessa Grimaldi talked about the last text she sent Nick Viall, which was a nude photo!
Apparently, "The Bachelor" is also a big Justin Bieber fan, but that's probably the least juicy piece of information from the above video.
Uh, thanks for sharing, guys.
Recently, Viall and Grimaldi opened up about the public criticism they received after appearing on "After the Final Rose," following their engagement.
Speaking about their "After the Final Rose" segment, the 36-year-old said,
Quite honestly, all we did was answer [host] Chris' questions and Chris wanted to ask us a lot of questions about how it's been, so we just decided to be honest. We're not going to show up and be like — you know, if we get asked questions like, 'Have there been difficult times?' Yeah, of course. Our relationship so far has been me dating 29 other woman and having to watch that back while having a relationship long-distance. I don't know if you think that might be easy. It's not. We just decided to be upfront about it. We're just a very practical couple.
Nick Viall continued,
There's no guarantee. Unfortunately, in this day and age, relationships in life are hard. Unfortunately, even after people get married, with how things are, it's not uncommon to get divorced. We're just realistic about it, and I think that's what we have going for us. I think sometimes when you pretend things, you play house, that can set you up for disaster. I have the confidence we're going to face things head on, and we're OK to admit that there's a fear of things not working out, but we're going to give it our best to make sure that it does.
Hey, whatever works, right?
Citations: Bachelor: Vanessa Grimaldi Reveals Her Last Text To Nick Viall Was X-Rated | People NOW | People (YouTube)