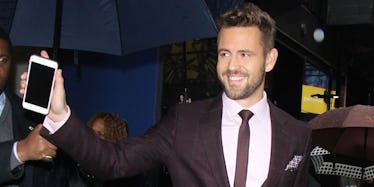 'Bachelor' Nick Viall Is Obsessed With Himself, Posts Pic Looking At A Selfie
REX/Shutterstock
Uhhhboy, Nick. You posted a picture of yourself taking a selfie.
That's an awfully long walk for a short drink of Damn, You Love Yourself.
Nick Viall has loved himself for an eternity.
His Instagram is a catalog of evidence supporting this fact.
Like, we get it. He'd give himself the final rose if he could.
He thinks he's one suave bitch.
Ugh, HIKING? No.
If you're there to hike, you're there to hike, not take selfies. RESPECT THE CANYON, NICK.
He dug up a corpse's arms for this one.
We really get it. That's really enough.
Hopefully, Nick took some time off from gazing lovingly into his own likeness during his time at Bachelor Mansion because season 21 is getting serious and it's up to his vain ass to make the right choice.
Corinne is the fan favorite of anarchist library burners everywhere...
...but Rachel gained ground after last week's episode.
Rachel and Nick twirled their shiny bodies around the streets of New Orleans before sitting down to a romantic dinner in the Mardi Gras float cemetery.
Of their connection, Nick told E!,
Rachel's been kind of a frontrunner since day one… From the very beginning [she was] one of the easiest ones to kind of, you know, talk to, jive with. She's just, she's so… in her element in any situation. I love a woman who knows how to have a great conversation and just has a really strong personality and a great smile. She certainly has all of those.
Rachel may be gorgeous, intelligent, sweet, spirited, patient, family-oriented and mature, but let's not forget Alexis, who loves getting drunk and talking about aliens and the dark side of actor Nicholas Cage.
None of us can deny Alexis and Nick share a special connection.
Alas, love is not built on shark suits alone.