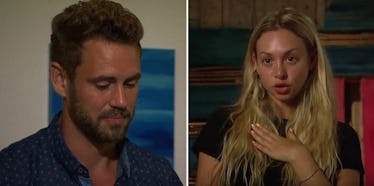 'Bachelor' Nick Viall Defends Corinne, Reveals Why He Turned Down Sex With Her
ABC
At this point, Corinne is 100 percent the only reason I still watch Nick Viall's season of "The Bachelor" every Monday night.
The girl is a legend and she better make it to hometown dates so we can all have intimate time with Raquel.
I'm serious, if we don't get to hang with Corinne's nanny, then I'm suing ABC. YOU HEAR ME, CHRIS HARRISON? THAT'S A THREAT.
Nick Viall actually appeared on "The Ellen DeGeneres Show" to discuss Monday night's episode and talk all things Corinne.
If you watched the show, you'll know Corinne decided to take things to the next level with "The Bachelor" boy because she was feeling nervous about getting sent home.
After Nick finished a date, the 24-year-old snuck over to his hotel room to have sexy time with him.
Yes, this was when Corinne said the infamous line,
My heart is gold, but my vagine is platinum.
KILLS ME EVERY TIME.
In the episode, Nick turned down Corinne and basically told her his dick is off-limits at this point. Like, she's hot and shit, but this ain't his first rodeo. He knows no one will kiss him again if he has sex with her while dating four other women.
Well, Ellen DeGeneres asked Nick about why exactly he turned Corinne down, and he had a lot to say on the matter.
He told her,
For me, nothing physical was going to happen because I had to focus on the other relationships. But I wanted to make sure that Corinne didn't feel like she'd made a mistake... she did take the time to spend more time with me, she didn't get a one-on-one on that point.
He also defended Corinne quite a bit and said they actually had really great chemistry. Nick explained,
They pick the interesting parts. Surprisingly enough, Corinne and I had some great conversations so there's a lot of reasons why Corinne has moved along. She has taken the time to focus on our relationship, which is hard to do for some of the women. She has always gone out of her way, like last night.
Wait... is... Corinne... NORMAL?!
The episode unfortunately ended before we found out if Corinne is safe from elimination, but tune in next week to see if dreams come true and we get to meet Raquel.
CROSS YOUR FINGERS!
Citations: Nick Viall Talks About Corinne (ET Online)