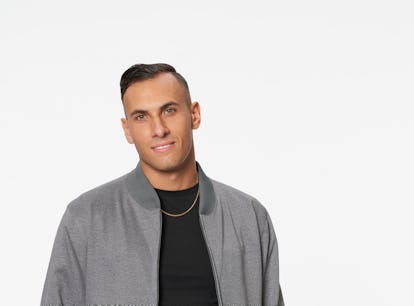 Pizza Peter Is Back In Bachelor Nation & Saucier Than Ever
He had a very messy time on The Bachelorette.
ABC/Craig Sjodin
In every good season of The Bachelor or The Bachelorette there's somebody with a gimmick, and in Michelle Young's season, that person was Peter Izzo. The self-described "pizzapreneur," made his love of pizza very clear right from the get-go in Season 18 of The Bachelorette. You may recall Peter's memorable entrance, during which he tossed a hunk of pizza dough into the air and onto the driveway. That wild energy seems to be par for the course with Peter, who also found himself in several screaming matches during his time on the show. Now Peter is back to bring more drama — and, let's be real, probably pizza — to Bachelor In Paradise.
While pizza is probably the thing Peter is best known for, he also made a name for himself in the famous Jacket Drama of 2021. Peter butted heads with another contestant from Michelle's season, Will Urena, and showed it by tossing Will's jacket (which was a prize from a group date) straight into the pool. There's definitely a history of stuff getting thrown into the ocean in Paradise, so Peter could be right at home on the beach. Here's everything to know about Peter and all the drama he's bringing to BIP Season 8.
Peter Izzo's Bachelor Nation Journey
Peter wasn't around for very long during Michelle's Bachelorette season, but he made quite the impression while he was there. He was eliminated in Week 3, but not before he started a feud after Will called him a narcissist and he threw Will's jacket in a pool.
Peter also spent most of his time talking about his pizza business, and he even made sure to bring pizzas to the "Men Tell All" special that season.
Peter Izzo's Real Job
So yes, Peter is a "pizzapreneur," which means he owns and runs his own pizzeria (aptly named Peter's Pizzeria) in Port St. Joe, Florida. Peter studied in Italy and, according to his ABC bio, is now ready to build a culinary empire. His restaurant serves New York-style pizza served by the slice, which makes sense, since he was born and raised on Long Island, New York.
Since his time on The Bachelorette, Peter has apparently seen a boom in business and opened two new locations of his pizzeria.
Peter Izzo's Instagram
Peter shows off his pizza-loving roots all throughout his Instagram. His name on Instagram is Pietro Izzo, giving a little nod to the Italian version of his name, and his bio begins with the phrase "Buon Giornooo, how you doin'?" before he calls himself the "Pizza King." So yeah, Italian food seems pretty important to him.
The rest of Peter's Instagram is mostly filled with shots of him enjoying life in sunny Florida, as well as a very original family photo posed in front of a neon yellow Lamborghini. A little bit deeper into Peter's Instagram are some pretty gorgeous pics from his time in Italy, which are definitely worth a scroll down.
Peter Izzo Facts
Peter is fully committed to his culinary pursuits. He says in his bio that he loves red wine and calls himself a "vino head," and he needs his future partner to be a foodie too because "as ready as Peter is to find a wife, part of his heart will always belong to his first love, food." Hopefully his future wife doesn't care that much about books, though, because another one of Peter's fun facts from his bio is that he doesn't like libraries. There usually isn't too much reaching happening on the beaches of Paradise, so Peter should be all good there.
Season 8 of Bachelor In Paradise airs Mondays and Tuesdays at 8 p.m. ET on ABC.
This article was originally published on