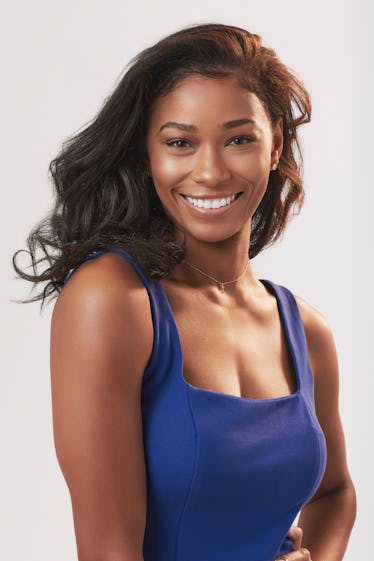 Everything To Know About Genevie From The Bachelor
She's part of the Colleen Hoover hive, for one.
ABC/Ricky Middlesworth
Everyone loves a hometown hero, and Baltimore has one to root for this season on The Bachelor. Genevie Mayo is one of the 30 women vying for Zach Shallcross' heart during Season 27 of The Bachelor. She's from Baltimore, Maryland, and has already garnered a fanbase of loyal Baltimoreans who are rooting for her to take home the Final Rose.
A writer for The Baltimore Banner published a column on Jan. 30 voicing their endorsement for Genevie because of her Baltimore roots. "Contestant Genevie Mayo is from Baltimore, which is enough to make me want her to win," they wrote. And the Baltimore love goes both ways. In her official ABC bio, Genevie says she "goes hard for the Baltimore Ravens," so she knows how to show she loves her hometown. Now, there's just the question of whether or not there's love between Zach and Genevie, too.
On Night 1 of The Bachelor Season 27, Genevie kicked things off by getting down to the business at hand with Zach. She brought a baby doll with her to the Bachelor Mansion to see if Zach could handle a diaper change, presumably for their future children. Zach managed the task decently enough, which could be a good sign for his relationship with Genevie. Here's everything to know about her as she continues on The Bachelor.
Bachelor Nation's Genevie Mayo's Real Job
It makes sense that Genevie brought a baby doll to her first night on The Bachelor because she's a neonatal nurse. She has a ton of experience working with infants, so even if Zach has a thing or two to learn about diaper-changing, Genevie can probably help him out. Not only does she work as a nurse now, but, according to her bio, she aspires to be CEO of a hospital someday.
Bachelor Nation's Genevie Mayo's Instagram
Genevie is actually fairly new to Instagram. She only has two posts on her grid: one announcing her Bachelor casting and one celebrating her rose from the first Rose Ceremony. It looks like Genevie is using her Instagram as a one-stop shop to chronicle her Bachelor Nation journey.
Bachelor Nation's Genevie Mayo Facts
Genevie is a romantic who loves reading Colleen Hoover books who "loves hard," according to her bio. She's 26 years old and loves playing sports. She says she can "sort of" drive a stick shift, which raises a few questions, TBH, but perhaps she'll demonstrate those "sort of" skills this season on The Bachelor.
Season 27 of The Bachelor airs Mondays at 8 p.m. ET on ABC.