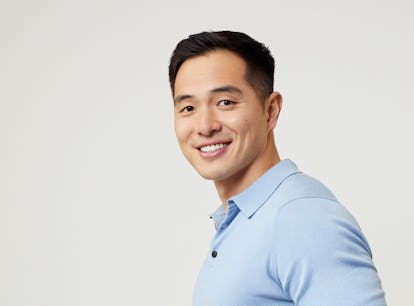 This Bachelorette Contestant May Be The Fandom's New Meme King
ABC/Ricky Middlesworth
When contestants go on The Bachelorette, the goal is to find love, obviously. But there are always some fun bonuses that might come with all the airtime on TV, like more followers and fans. One contestant in Season 19 of The Bachelorette may already be reaping some of those bonus benefits thanks to his memorable reaction shots. Ethan Kang is already gaining tons of fans in Bachelor Nation thanks to his amazing facial expressions, which are perfect meme material.
According to his ABC bio, Ethan is a self-proclaimed "hopeless romantic who isn't afraid to wear his heart on his sleeve." But even though he's serious about finding love, he also happy to have a little fun along the way. Fans have already noticed that he loves to react in a big way to everything that happens this season on The Bachelorette. It's only been a few weeks of the season so far, but Ethan is already standing out as someone fans can connect to. Not only has Bachelor Nation already turned his big reactions into memes, but Ethan also served as a narrator during the Week 3 photoshoot group date. He called some of the scantily-clad other contestants "Magic Mike without the magic," creating an instantly classic Bachelor Nation quote.
Here's everything to know about this burgeoning Bachelorette legend.
Ethan Kang's Real Job
Ethan works as an advertising executive in New York City. According to his LinkedIn profile, he works for Amazon, and before that he worked for Yelp.
Ethan Kang's Instagram
Ethan's sense of humor shines through on his Instagram. He posts funny videos about his time on The Bachelorette, clearly leaning into all the love from Bachelor Nation. He even hosted a Bachelorette premiere watch party at the start of this season. The rest of his Instagram is devoted to his friends and his travels to places like Tokyo. He also posts some pretty adorable throwback photos to his grid.
Ethan Kang's Bachelorette Journey
Ethan made a big impression on Bachelor Nation, and he made a big impression on Rachel as well. When Gabby and Rachel asked the guys to "pick a lane" and choose to pursue just one of them, Rachel offered him a rose and he accepted it. Now time will tell if things work out between Ethan and Rachel.
Season 19 of The Bachelorette airs Mondays at 8 p.m. ET on ABC.