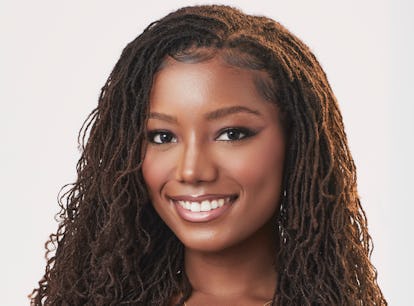 Meet The Woman Who Got The Very First Rose Of Zach's Bachelor Season
She already has a leg up on the competition.
ABC/Ricky Middlesworth
Usually, contestants need to wait until the limo entrances on Night 1 of The Bachelor in order to meet the lead and make an impression on him. But for Zach Shallcross' season of The Bachelor, five women got the chance to meet Zach ahead of time, and one lucky woman received a rose before even stepping foot in the mansion. That woman is Brianna Thorbourne, and she's going into The Bachelor Season 27 with a huge advantage.
During the "After the Final Rose" episode of Gabby Windey and Rachel Recchia's season of The Bachelorette, Zach was announced as the Season 27 Bachelor. The producers wasted no time getting Zach's season started, and they introduced him to five of the women competing for his heart this season. Brianna was one of those women, and she broke the ice by snapping a Polaroid picture to help them remember the moment. She also made an impression by being honest with Zach when they met, telling him, "I literally almost fainted on the way in."
Audiences then got to vote on who would get a rose — dubbed America's First Impression Rose — out of the five women introduced that night... and the honor went to Brianna. That means she'll be safe going into the first actual night of Zach's season, likely guaranteeing her a spot in the following episode.
But even though Bachelor Nation appears to approve of Brianna, the real test is yet to come. Here's everything to know about Brianna as she sees if there's a future for her with Zach.
Bachelor Nation's Brianna Thorbourne's Real Job
Brianna is an entrepreneur who graduated with a degree in communication and media studies from the University of Miami. Her ABC bio says she's "giving She-E-O vibes," and she has the goods to prove it. She founded a company called Bourne Beauty that makes "the most advanced electric makeup brush with interchangeable rotating brush heads."
Brianna is also a model and has appeared in MVIBE Magazine and in campaigns for brands like Peds and Foot Locker.
Bachelor Nation's Brianna Thorbourne's Instagram
In addition to showing off looks from her various modeling gigs, Brianna's Instagram shows off her adventures snorkeling and ziplining. She also highlights her travels to places like California and the Hamptons, making it clear she doesn't stay put for very long.
Bachelor Nation's Brianna Thorbourne Facts
Brianna considers herself "a woman of the world" who loves to travel. Her hometown is Jersey City, New Jersey, but she's been all over and even lived in Paris for a bit. The 24-year-old says she "does not do 'Netflix and chill,'" so hopefully Zach is up for adventure.
Season 27 of The Bachelor premieres Monday, Jan. 23, at 8 p.m. ET on ABC.