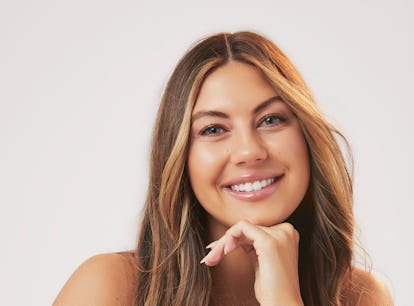 Here's Why Bailey From The Bachelor Looks So Familiar
No, it's not just that she looks like a past contestant.
ABC/Ricky Middlesworth
Zach Shallcross' season of The Bachelor begins in earnest on Jan. 23, but some of the Season 27 contestants will already be familiar to fans when they tune in for the premiere episode. That's because five of the women from this season got to meet Zach ahead of the official Night One entrances when they paid him a visit during the "After the Final Rose" episode of Gabby Windey and Rachel Recchia's season of The Bachelorette. Those five contestants, including Bailey Brown, will definitely stand out to fans this season since they've seen them before.
When the five early arrivals to Zach's season made their entrances, they each offered him a way to remember them. In Bailey's case, she used her name to come up with a fun rhyme. "On the daily, I'm going to be thinking of Bailey," she told Zach.
Unfortunately, Bailey's mantra didn't really work and Zach had trouble remembering her name later that night. Luckily for her, she has more time to make an impression on Zach when she during her time at the Bachelor Mansion. Here's everything Zach and audiences will need to know about Bailey as she goes on the journey to find love in The Bachelor Season 27.
Bachelor Nation's Bailey Brown's Real Job
Bailey works as a senior executive recruiter at ForceBrands. Before that, she worked in product design and marketing for a few different companies. She graduated from the University of Tennessee, Knoxville, with a degree in communication studies in 2018.
Bachelor Nation's Bailey Brown's Instagram
Bailey posts lots of photo dumps of her friends, family, and travels on her Instagram. She seems to be really close to her two sisters and her dog Charlie. She's from Nashville, but moved to Los Angeles in the summer of 2022 and she lists LA as her location in her Instagram bio.
Bachelor Nation's Bailey Brown Facts
Bailey is full of adventure. According to her ABC bio, she would love to be a professional skydiver and likes her margaritas spicy. Her main goal is to open her own business in the wellness world in order to feed her passion for health and wellness. She also isn't on any dating apps because she's serious about finding "the one." Perhaps The Bachelor is the way she does that.
Season 27 of The Bachelor premieres Monday, Jan. 23, at 8 p.m. ET on ABC.