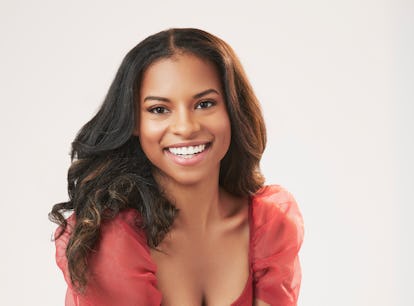 1 Of Zach's Bachelor Contestants Went To Beyoncé's High School
This is such a claim to fame.
ABC/Ricky Middlesworth
Going on The Bachelor is a great way to gain fame and notoriety. After being on the show and reaching an audience of millions, a lot of Bachelor alums wind up becoming the most famous person from their hometown. But there's one contestant from Zach Shallcross' season who has some stiff competition for that title in her case, because Aly Jacobs from The Bachelor Season 27 went to the same high school as one of the biggest celebs in the world: Beyoncé.
Aly doesn't seem to be afraid of living in Beyoncé's shadow since she proudly stated that she went to the same high school as her — High School for the Performing and Visual Arts in Houston — in her ABC bio. It makes sense; Aly has other things on her mind, like possibly finding love with Zach. In her bio, Aly calls herself a "hopeless romantic" who "has even ended serious relationships because her exes weren't ready for the real deal." She's clearly not playing around, and fame seems to be an afterthought for Aly. Her main concern is the very real business of falling in love, and only time will tell if she finds success on The Bachelor. Here's what you need to know about Aly as she goes on this journey with Zach.
Bachelor Nation's Aly Jacobs' Real Job
Even though Aly attended a performing arts high school, her career doesn't involve performing. She's a healthcare strategist and works as a project manager at Children's Healthcare of Atlanta. According to her LinkedIn, she graduated with a degree in accounting from Northwestern State University before going on to earn her MBA from Louisiana State University in Shreveport.
Bachelor Nation's Aly Jacobs' Instagram
Aly doesn't post a ton on her Instagram, but what she does choose to post offers a candid look at her life. Aly is a talented singer and posts several videos of her performances. She's also a huge Atlanta Braves fan and loves to travel around the world.
Aly also used to participate in beauty pageants and made it to the Top 10 of the Miss Louisiana competition in 2019.
Bachelor Nation's Aly Jacobs Facts
Aly calls Atlanta home but used to live in Houston. The 26-year-old has a goldendoodle named Texas and loves to collect porcelain dolls. She says in her bio that she hopes Zach can match her energy, and it looks like she has a lot to offer.
Season 27 of The Bachelor premieres Monday, Jan. 23, at 8 p.m. ET on ABC.