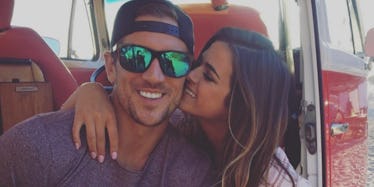 Attention 'Bachelor' Nation: JoJo And Jordan Are Open To A TV Wedding
Instagram
If you meet your fiancé on a reality show in front of the eyes of the world, sending out wedding invites gets a little tricky.
Sure, you want to be surrounded by loved ones, but you also used a camera crew, Instagram commentators and fans on Twitter as your personal form of therapy over the majority of your relationship, so it's kind of rude not to invite them also.
Luckily, television and capitalism exist.
This weekend, happy "Bachelorette" couple JoJo Fletcher and Jordan Rodgers attended Mohegan Sun's 20th Anniversary event and took part in a Reality Check-In Q&A session.
They were flooded with questions, but the main thing on "Bachelor" fans' minds was if they're going to be able to sink their reality-loving claws into a dramatic, fairytale-style, super authentic TV wedding.
When asked if they had any plans to get married in front of the eyes of the nation, JoJo responded,
I think it's such a special thing. It's really important, probably the most important day in both of our lives. We're going to have to think about [a TV wedding], and if it made sense then we'd be open to it.
Read: If we get paid enough money to fill an above-ground swimming pool, we'd def be open to it.
This past Valentine's Day, "Bachelor in Paradise" couple Jade Roper and Tanner Tolbert said "I do" on a TV special. I cried. You cried. Ashley obviously cried.
JoJo and Jordan gave fans a little more insight into their future nuptial plans.
They have only been engaged for three months at this point, but like any normal pair of Chris Harrison's puppets, they've kind of, sort of, started their wedding planning.
When asked when their wedding will actually take place, JoJo said,
We know the type of wedding we want, but we haven't set a date. We're still trying to figure out what we're going to do... We're talking about it, but there's no official date. Maybe sometime next year though!
OK, that's fair. We'll all be anxiously waiting to watch Aaron Rodgers in the same room as JoJo's brothers.