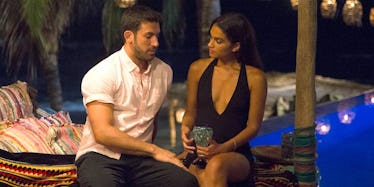 'Bachelor In Paradise' Couple Taylor & Derek Got Engaged & You Need To See The Ring
ABC
Well, at least one fake romance came out of this incredibly bleak season of Bachelor in Paradise. ABC apparently does not give one iota about spoilers, considering Bachelor in Paradise contestants Taylor Nolan and Derek Peth confirmed their engagement over a week ago. Now, on the day of the Bachelor in Paradise Season 4 finale, Taylor and Derek gave People the scoop on Taylor's engagement ring: a 2-carat diamond ring custom designed by Neil Lane.
I won't pretend to know very much about rings, but this one seems both tasteful and modest. Neil Lane has some sort of business agreement with the entire Bachelor franchise — that's the brand Bryan Abasolo chose when he gave Bachelorette Rachel Lindsay a ring earlier this summer. Lane said in an interview with People that he got a sense for Derek and Taylor's personality by chatting with the Bachelor in Paradise producers. Lane said,
I did not actually meet with Derek, so it was important for me to better understand him and his personality – and of course Taylor's as well. What I gathered was that he was more traditional yet he also liked the idea of a romantic ring.
The resulting ring was a gorgeous and classic look. A simple round diamond encased by a platinum cage, with two accent diamonds on either side.
According to the report from People, Derek was torn between this ring and a vintage rose gold ring with small diamond detail, but in the end, he decided the platinum was more traditional and more what Taylor would want. Lane said of Derek's pick,
He decided it best suited Taylor. And Derek really liked that it felt more traditional and classic, but still had a mid-century vibe. She loved it!
Well, that's a relief. In the teaser trailer for Monday night's Bachelor in Paradise premiere, we also got a sneak peek at the proposal itself. Someone (who we assume is Derek) opens a little black box to reveal the ring, and Chris Harrison exclaims, "This is the first damn bit of good news I have had all night!"
Based on that, it sounds like it's going to be drama-filled finale, which is hardly surprising considering the way the season has gone. The first three weeks were dedicated to the controversy between Corinne Olympios and DeMario Jackson, who will be appearing together in Monday night's finale for the first time since the incident.
Back in June, filming was briefly suspended on Bachelor in Paradise due to an allegation of sexual misconduct between DeMario and Corinne. Rumors circulated that DeMario had allegedly taken advantage of Corinne when she was unable to consent. Warner Bros. conducted an internal investigation of the incident, and released the following statement on June 20,
As we previously stated, we recently became aware of allegations regarding an incident on the set of Bachelor in Paradise in Mexico. We take all such allegations seriously. The safety, security and well-being of the cast and crew is our number one concern, and we suspended filming so that the allegations could be investigated immediately and thoroughly. Our internal investigation, conducted with the assistance of an outside law firm, has now been completed. Out of respect for the privacy interests of those involved, we do not intend to release the videotape of the incident. We can say, however, that the tape does not support any charge of misconduct by a cast member. Nor does the tape show, contrary to many press reports, that the safety of any cast member was ever in jeopardy. Production on this season of Bachelor in Paradise will be resuming, and we plan to implement certain changes to the show's policies and procedures to enhance and further ensure the safety and security of all participants.
Since then, both DeMario and Corinne have had one-on-one interviews with Chris Harrison. Both stated that no misconduct took place and they felt the incident was misreported by media. Whether the two are on good terms now remains to be seen. The Bachelor in Paradise finale airs at 8 p.m. ET, Monday, Sept. 11 on ABC.