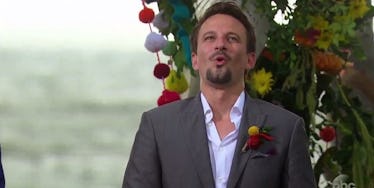 Evan's Reaction To Seeing Carly At Their Wedding On 'BIP' Will Ruin You
ABC
Bachelor In Paradise is back, you guys, and I already hate myself for watching it every night. The new season kicked off on Monday, August 14, with part two flowing over into Tuesday, August 15. That's right, BIP is TWO TIMES A WEEK NOW. I mean, let's be real: WTF else are you doing with your life? The second episode kicked off with Evan Bass and Carly Waddell's wedding and the ceremony was SOO freaking beautiful. To top it off, Evan's reaction to seeing Carly at their wedding will literally destroy you.
The episode started with a look back at all the Bachelor, Bachelorette, and Bachelor In Paradise couples who had a wedding day TV special like Catherine Giudici and Sean Lowe, for example.
Shortly after, we got to see Evan and Carly's beautiful wedding day. Several Bachelor couples were in attendance, including Nick Viall, Vanessa Grimaldi, Shawn Booth, and Kaitlyn Bristowe.
Evan and Carly opened up about how much they love each other in emotional confessionals and the two reminisced about their time together on Bachelor In Paradise.
THEN THIS FREAKING MOMENT HAPPENED. Carly walked down the aisle and Evan saw his future wife for the first freaking time wearing a gorgeous embellished dress. Carly, girl, you gotta tell me where you got that thing. I seriously have never seen anything so beautiful before in my life.
As soon as Evan saw Carly, he broke down in tears. LOOK AT HIS FACE, FOR CRYING OUT LOUD. THE MAN IS ABOUT TO LOSE IT.
He literally looked at Carly and started mouthing things like, "Oh my god," and "You look so beautiful." It was straight out of a movie and it was incredible.
Evan and Carly, we wish you the best together and can't wait to see what bundle of joy baby you bring into this world. CONGRATS ON A BEAUTIFUL WEDDING, AND P.S. WHY THE HELL DIDN'T I GET AN INVITE?