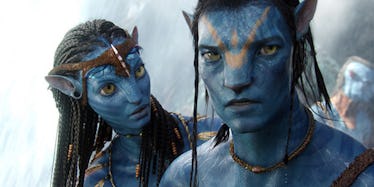 Get Excited Because An Insane Amount Of 'Avatar' Sequels Are Coming
James Cameron
I'll try to refrain from using all caps, but GET THIS: James Cameron recently announced four -- count 'em, FOUR -- new "Avatar" sequels coming our way.
Making a special appearance at CinemaCon on Thursday, he said,
We're making four epic ['Avatar'] films that stand alone but together form a saga. These movies were designed to be seen in theaters first.
But really, four?! Forming a SAGA?! Damn, James Cameron, you had me at "hello."
Unfortunately, we'll have to wait a hot sec as "Avatar 2" won't be coming out until December 2018. The remaining three sequels are scheduled to follow each year thereafter right around Christmastime in 2020, 2022 and 2023.
Cameron continued with some more juicy details, saying,
I've been working with the top four screenwriters and designers in the world to design the world of 'Avatar' going forward. The environments, new cultures — whatever it takes to bring it to life. From what I'm seeing of the art on the wall … in pure imagination is just beyond the first film. I'm speechless.
When other attendees at the conference questioned him about the future of video streaming and the VOD service, the Screening Room, he had this to say:
Our jobs as filmmakers is to keep making films onscreen. We'll continue to make this industry the greatest show on Earth... Despite what the folks at the Screening Room say, I think movies need to be offered in the theater on opening day. So boom.
"Boom" is right.
Citations: James Cameron Expands 'Avatar' Sequels To Four, Slams Screening Room & Gets Cheers From Exhibs- CinemaCon (Deadline)