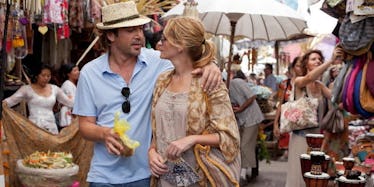 The Author Of 'Eat, Pray, Love' Is Getting Divorced, So Romance Is Dead
Sony Pictures/YouTube
Say it ain't so! Elizabeth Gilbert, the writer behind the best-selling book, "Eat, Pray, Love," announced on Facebook that she and her husband are calling it quits after 12 years together.
According to Cosmopolitan, Gilbert wanted to publicly announce her divorce with Jose Nunes -- referred to as "Felipe" in the 2006 memoir -- because she'd previously revealed the "details of [her] private life... so intimately over the years." In her Facebook post, she wrote,
[Nunes] has been my dear companion for over 12 years, and they have been wonderful years. Our split is very amicable. Our reasons are very personal. At this time of transition, I hope you will respect our privacy. In my heart, I know that you will do so, because I trust that you understand how this is a story that I am living -- not a story that I am telling.
At the end of her heartbreaking post, she added a link to a Jack Gilbert poem that, in part, reads,
Like being there by that summer ocean / on the other side of the island while / love was fading out of her, the stars / burning so extravagantly those nights that / anyone could tell you they would never last.
The fuck?! What are the rest of us supposed to do now that romance is officially dead?!
It appears we'll just have to keep pressing on the Calvin Harris way... I guess.
Citations: The Woman Who Wrote Eat, Pray, Love Is Getting a Divorce (Cosmopolitan)