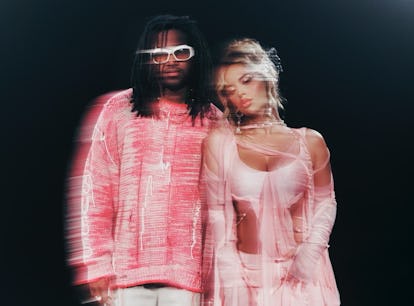 Alina Baraz Is Back On The Music Scene With "Breathless"
"Kiss me fore' I lose my mind."
Ultra Records
This summer is meant for love, but not just any kind. According to Austin Millz and Alina Baraz, it's time to indulge in a tier of passion that brings the clinginess out of another, such as daydreaming about spending time with your partner while already with them. Or, driving in that grueling, evening traffic just to visit them for a kiss. That dramatic dedication blooms on the duo's latest collaboration, "Breathless." The synthy track appears on Millz's upcoming record Breathwork, and takes listeners on a pulsing ride to romance.
Millz first teased "Breathless" on May 14, when he posted a dimly-lit photo of him and Baraz on Instagram. He then shared a brief clip of the track a few days later. Considering Millz has an ear for creating infectious, hip-swaying tunes that ultimately come alive on the dancefloor, fans didn't expect anything less for this release. This track also sits comfortably in Baraz's discography, which fleets between whispery slow burns and experimental R&B records.
"Breathless" follows an impressive streak of releases from Millz this year. The Harlem-born DJ — known for mixing rhythms of R&B, hip-hop, and dance music — kicked off the year with a feature from Chaka Khan (!). He then collaborated with Sabrina Claudio ("Inhale / Exhale") and Estelle on "Freeway," which both appear on his EP that's set to drop this summer.
As for Baraz, this sudden collaboration comes two years after her two 2021 EPs, Moongate and Sunbeam. These moody offerings saw the California singer submitting to a rousing grip of love, and narrating the sensation with her signature wavy sound. It's almost as though those projects steadied her for "Breathless," which sees her craving for her partner's affection. Though lyrically straightforward, Millz credits her songwriting with breathing life into this dance number.
"I've been a fan of [Baraz] since the golden era of Soundcloud, so working with her meant a lot to me. The way she captures songs with her tone and lyrics and voice is magical," he said, according to a press release. "The sessions we had for this record was so much fun, we were just jamming."
Baraz echoed a similar statement when reflecting on "Breathless," describing their live sessions as "playful" and "lighthearted." Let's dive into the lyrics.
"Breathless" pours in with Millz trademark synths, which feel like that sensation of goosebumps crawling down your spine. That spiraling, almost chill-inducing element settles under Baraz's soft vocals, and it's quite a perfect fit. Within seconds of the opener, Baraz introduces listeners to her partner whom she's in awe of.
"It's you / It's really really you / I run off a feeling / Don't know / Where this is gonna go / But I gotta see," she coos, flexing a certain rhythm that rides like silk against the production.
She continues her declaration of love, crooning how much her partner lives in her mind rent-free. For a second, her vocals soften as though she's in disbelief she's witnessing this kind of romance. That inflection makes sense, as she later reveals in the pre-chorus that she's always been reckless with her emotions when in love. She sings,
"I been so reckless with my love / I been so reckless with my trust / But you deserve it / Swear you deserve it."
However, that doesn't deter Baraz from helplessly falling for her new beau. With those synths still pulsing, Millz stacks some airy drums in the chorus. There, Baraz offers an infectious melody with her clinginess on full throttle.
"Hold tight, I'm on the 5 / I can't wait to love you right / Breathless when I arrive / Kiss me fore' I lose my mind / Kiss me fore I lose my mind (Crave it) / Kiss me please don't waste my time (Taste it) / Kiss me I'm gon' lose my mind / I gotta have what I want went I want it," she purrs, her vocals briefly adopting a staccato effect against the production.
Baraz and Millz continue building a decadent sonic experience until the outro. "Breathless" is one hell of a swoon-tune, simultaneously posing as a love letter to a special person and dance music as a whole.
Check out "Breathless" below, and the full lyrics via Genius.