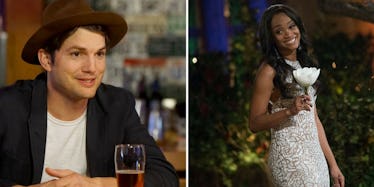 Ashton Kutcher Gushes Over 'Bachelorette' Rachel Lindsay: "She's The Real Deal"
Getty, ABC
Ashton Kutcher wasn't just acting when he fangirled over Rachel Lindsay during his appearance on The Bachelorette earlier this season. He really is a major fan of hers, which he proved on The Tonight Show with Jimmy Fallon on Wednesday.
Kutcher used his appearance on to gush about how much he loves Rachel Lindsay. When Jimmy Fallon brought Rachel up, Kutcher immediately launched into a speech about why she is such a great Bachelorette... which largely boils down to the fact she actually has a real job, making her an anomaly on the series that brought you such "professions" as "Tickle Monster" and "Twin."
She's the business! She's the real deal. She's beautiful, she's smart. She has a job and she's on Bachelorette; that never happens!
Of course, as Bachelor Nation already knows, Kutcher and his wife Mila Kunis had a cameo on Rachel's season of The Bachelorette a couple weeks back to give her some advice on her unique dating situation.
As a self-proclaimed Bachelor superfan, Kutcher also revealed just how invested the fandom is in Rachel. He said that all people want to talk to him about nowadays is what Rachel's like IRL.
I've met a lot of people — I've met Obama, I've met Bill Gates — and people are always like 'What's Rachel Lindsay like?' That's all they want to know.
Thankfully, it sounds like he doesn't get tired of talking about how amazing Rachel is, so the constant questions aren't too annoying.
He also recounted the unusual way he got his outfit together for his appearance on The Bachelorette. Apparently, he spotted a guy on the WB lot wearing a "Trophy Husband" T-shirt, and Kutcher ran after him and actually traded shirts with him in order to wear the novelty shirt on the show.
Now that's dedication to Bachelor Nation. Check out Kutcher's full interview with Fallon below: